Glass Atriums Melbourne from Undercover Blinds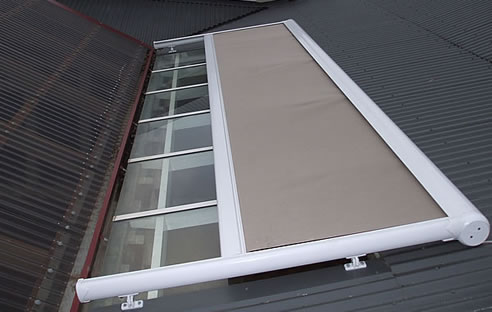 Having a glass atrium is great for the cooler months - letting in the winter sun, whilst allowing you to control the undercover area's temperature with atrium shades.
Undercover Blinds' atrium shades allow you to extend a highly tensioned fabric via motorization over your glass roof area to block the sun's rays when necessary.
At the push of a button you're in the shade making your air conditioner more efficient and helps ease the fading of furnishings.
Glass roof blinds can have many fabrics from full blockout material to see through materials of varying blockout percentages.
Most glass roof awnings have to be motorised and with the option of sun sensors, timers and wind sensors. You can guarantee your area will be covered and protected around the clock, automatically.
We can also integrate the technology into your c-bus or smart home if required.
Wouldn't that be great - extending your awnings over your area when you're not home via an I Pad or mobile device!
Our glass roof blinds come with a great guarantee supported by the manufactures in Germany and Italy.
Here at Undercover Blinds we often customise glass roof blinds & awnings to fit to special and unusual shaped windows, so give us a call today - we might be able to solve that odd shaped area you've been thinking of!