Durable Timber Floor Finishes from Whittle Waxes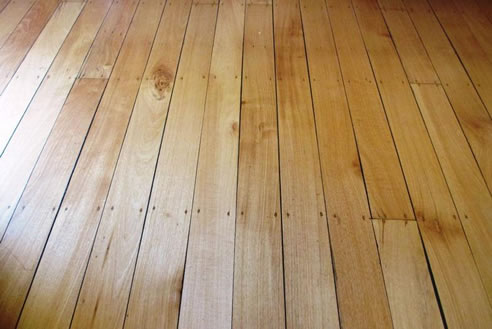 Not only are Hardwax Oils natural and safe, they can take a hammering!
"Hello all at Whittle Waxes,
Just had you on the phone and mentioned we were still very happy with the finish after three and a half years of hard wear and tear. Our house is 130 years old (so the teak floor is that old as well) and we had it sanded and finished in late 2009.
Since then we've not been easy on the floor: what with four teenage daughters (and their boyfriends) and two huge dogs (Mastiff X and Great Dane X), the floor gets a hammering!
I've enclosed three photos: two of the living room (very high traffic areas as you can imagine) and one of a bedroom (lower traffic). You can see the floor has held up very well despite the heavy traffic."
- Dr Mieke Witsel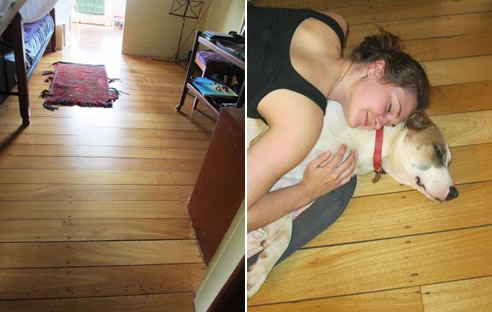 Durable and easily maintained, hardwax oils have high coverage rates up to 20 to 30m2 per litre depending on the timber species. The first application is applied easily with two coats, the surface may be used with care 24 hours after the application of the second coat. Long thereafter they are replenish able with a simple maintenance coat. For areas that use faster than others the fact that they are spot repairable, no need to re-sand your whole floor to repair or replenish is a tremendous benefit.
Depending on the type of use the floor is getting will depend on the maintenance regime, obviously the kitchen will require more regular maintenance than the bedroom. Work surfaces, tables and Bench tops should be cleaned in the same fashion as timber floors. By using a cleaning product made from carnauba wax will prolong the longevity of the coating.
Natural oils and waxes have been used for centuries in Europe, and while the recipes continue to evolve with state of the art research. By looking at heritage European timber, the evidence is clear that hardwax oils are a quality choice for clean interior air and beautifully coated timber.