Bronze Pedestal Sculpture by Stephen Glassborow from ARTPark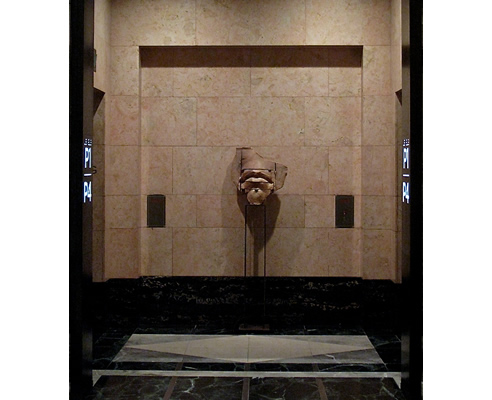 Sculpture makes a clear Statement of style and design...
This stunning Medium sized solid bronze sculpture 'Mouth Piece' by Sydney artist Stephen Glassborow, delivers a striking impression for anyone who view's this piece in the flesh. The Bronze is indulged in a colouring process called a 'patina' giving the sculpture are Marble like finish and can vary in many different colour tones to suit various applications.
Here in this marble tiled foyer it almost looks as if the sculpture is a 3D element of the wall it self. Indeed a valuable asset to any building, garden or collection.
ARTPark Australia can offer the architect/designer or home owner the opportunity to consider a vast range of sculptural works by living Australian artists.
Encompassing internal smaller scale works to large scale works, suitable for commercial or public placement, ARTPark Australia has a form to suit!