Car Park Deck Waterproofing from Radcrete Pacific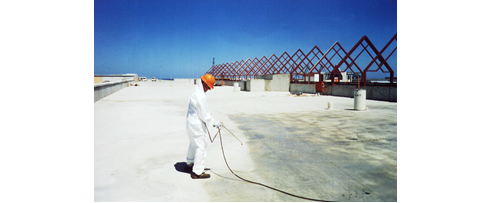 RADCON FORMULA # 7 WATERPROOFS
WESTFIELD WHITFORD SHOPPING CENTRE, PERTH
The Whitford Shopping Centre constructed by Westfield's Design & Construction in Western Australia was treated with Radcon # 7 to approximately 1,600 square metres of car park deck and plant rooms.
During the curing of the car park deck some minor plastic shrinkage cracks developed, which often occurs particularly with large expanses of concrete. As this car park deck was located over retail space it was decided to use Radcon # 7 to ensure there were no future water leakage problems. Alternatively a membrane would have been required, complete with a structural topping slab to make the site trafficable.
By utilising Radcon # 7 in this application significant cost savings were realised as no topping or screed is required and the application rate is much faster than comparable systems.
The application was completed by All Ready Surfacing and the applicator can be seen in the photo above using a motorised spray unit that enables Radcon # 7 to be applied at 600 to 800 square metres per hour.
SITE DETAILS
COUNTRY: Australia
SITE: Whitford Shopping Centre, Perth
CONTRACTOR: Westfield's Design & Construction
APPLICATOR: All Ready Surfacing
SIZE: 1,600 square metres