Data Centre Hot Aisle Containment from Tate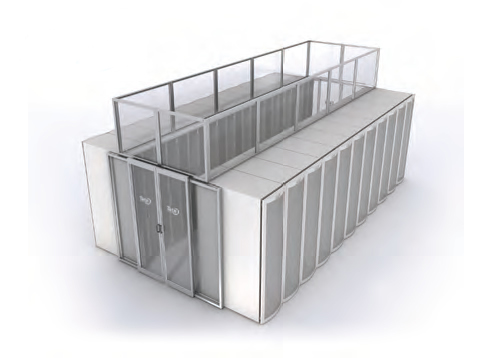 Hot aisle containment isolates hot air from the room and provides a return paths to the plenum. The entire room can be cooled using perimeter CRAC units, with the exhaust air being isolated to keep it from mixing with the cool air in the rest of the room.
By containing the hot aisle, the two air streams are kept separate. It segregates supply and return air to provide predictable airfl ow temperature to equipment.
Increase Productivity
OSHA requirements limit the length of time a person can work in elevated temperatures, which could mean reduced time for a technician to be able to complete work in a hot aisle.
SmartAire T provides on-demand airfl ow in the hot aisle to bring the temperature down so that continuous work can be performed. See pages 16-17 for more information.
Hot Aisle Configurations
A hot aisle containment system will need to use the ContainAire partitions around the top of the racks since the hot air needs to exhaust through the ceiling return grilles. These systems can be used with any door option. SmartAire T allows for continuous work in a contained hot aisle.