Movable Turnstile with Access Control from Magnetic Automation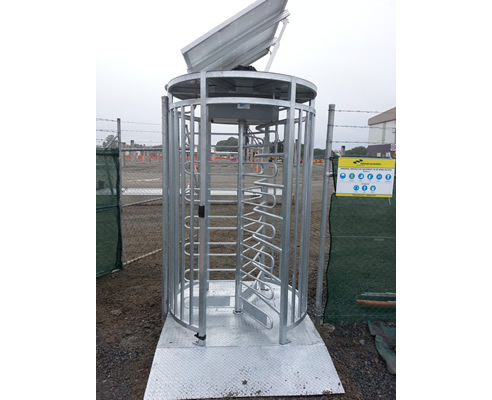 Site safety and induction
To prevent workers unfamiliar with the site to gain access without first being inducted. The customer required no one be allowed on the construction site without first being inducted. They have achieved this by handing out a proximity keycard after the induction so that they can gain access through the turnstile.
The customer was unable to run power to the turnstile where they wanted it located and they also wanted it to be movable. this was achieved by installing a solar panel and batteries to the roof of the turnstile and a full function access control system in the enclosure.
The gate was to be operated via a security guard house 15 metres from the gate rather than performing the expensive operation of running cabling to this office we installed a remote receiver in the gate controls and supplied the security guard house and site management with remotes to operate the gate.