Ethanol Fireplace Safety Reminders from EcoSmart Fire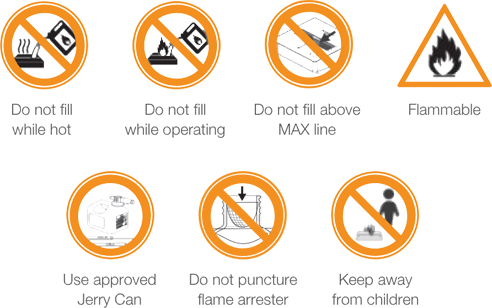 SAFETY REMINDERS - YOUR SAFETY IS OUR PRIORITY
Like all fire and fireplace systems, it's important to run through regular safety checks. Please take the time to familiarise yourself (and any other users) with the safety procedures associated with using your ethanol fireplace.
WARNING: FAILURE TO FOLLOW THE OPERATION PROCEDURES CAN RESULT IN PERSONAL INJURY OR PROPERTY DAMAGE.
e-NRG Bioethanol is the ONLY fuel to be used in this appliance. Buy now or contact your local distributor.
Check your burner is in good working condition, the shut off mechanism is working smoothly, the filling point is accessible and effective, nothing foreign has fallen into it and make sure there is no visual or physical damage to the burner.
Frequently inspect all around the installation - including lifting the burner out of its position to ensure that no fuel has accumulated in or around the setting at any time.
Take out your operations manual and refresh your memory on the operational procedures for using this product - video instructions are available on our website too.