Wooden Toilet Signs from Architectural Signs, Sydney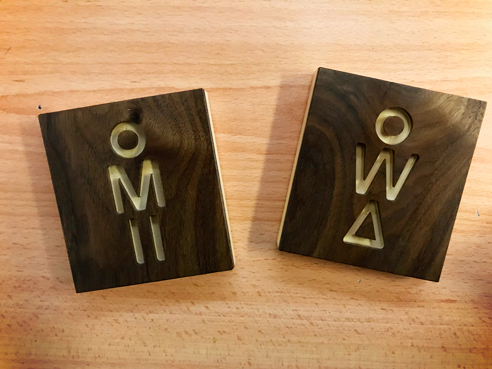 The best, if not the most entertaining signs for lavatories are those depicting a paper cut out-style man and a woman in the most basic form. Used worldwide, the male figure is much like a classic gingerbread man, while the female figure is different only because she wears a dress. While there are many women who rarely wear skirts, every woman and every man understands the image. These characters are sketched in an unreflecting instant by children from Asia across the Americas to Europe. This may well be a response conditioned by customs and imagery exported from dominant nations that have taken root in societies worldwide over generations; whatever the case, the imagery clearly works.
These primal images are archetypes, which is why they have been very useful in the design of universally understood pictograms for lavatories. Such imagery also influences the design of a plethora of signs found in international airports and major railway stations as well as restaurants, cafes, bars, lifts, escalators, etc. They are understood intuitively. No words need accompany them.