Aluminium Woodgrain Finish Colours from DecoWood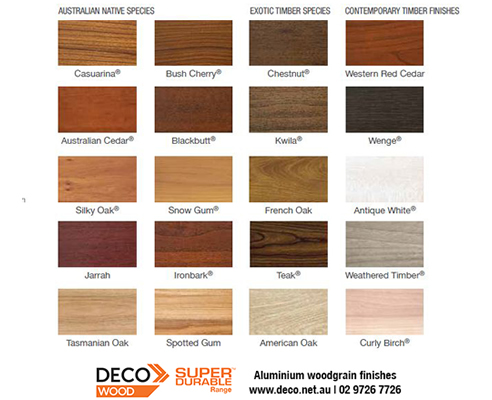 DecoWood Colours - The Ultimate Selection
DECO, the manufacturers of the leading aluminium woodgrain finish DecoWood, are offering specifiers even more choice of colour selection across their range of aluminium building products.
Now with 150 different woodgrain finishes in stock - the largest selection offered in Australia - there is most definitely a timber finish to suit your design or project. Choose from their specially selected Woodgrain Collections - Australian Native, Exotic Species or Contemporary Timber - featuring finishes like Casuarina, Ironbark and Western Red Cedar, or select your own base colour and woodgrain pattern to achieve a customised look.
DecoWood finishing is available on DECO's range of aluminium building products including fire-safe cladding, aluminium decking, battens and slats. It can also be applied to almost any aluminium profile and is commonly applied to window, door and flat sheet extrusions.
To view the DecoWood woodgrain collections click here or call our team on 02 9726 7726 to discuss all our available woodgrain finishes.