Motorised Roller Blinds for Elegant Home Interiors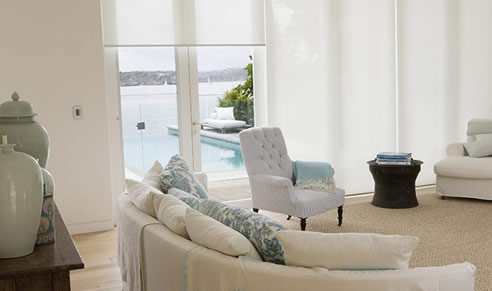 Motorised Roller Blinds are an underrated style element of the home interior. When we hear "roller blinds", we often associate it with a boring, run-of-the-mill white fabric pulled by a beaded chain. Sometimes, when manually rolled with the wrong pressure or the clumsiest of hands, the blinds tilt in an awkward alignment, far from an elegant home interior. These preconceived notions of roller blinds are a thing of the past thanks to Motorised Roller Blinds from Blinds by Peter Meyer.
Blinds by Peter Meyer take the tried and tested roller blind to the next level with a right mix of style, a wide range of fabrics, the finest components, cutting-edge technology and their trusted build quality.
Fabrics
Dispel all past ideas of boring roller blinds and think bold, rich colours, texture and weaves. Achieve elegance with a wide selection of Blockout, screen, translucent and woven fabrics curated from international and local weaving mills. Blinds by Peter Meyer select their fabric choices with care and expertise and with over 340 styles, you can create a truly unique statement.
For those who are tight on a budget but still wish to have a varied selection of colour and light densities, have a look at the Basics Range. Blinds by Peter Meyer curated a selection of fabrics that suit both residential and commercial projects at an affordable cost. See for yourself, check out their Interior Fabric Selector.