Waterproofing Rooftop and Balcony Gardens from Projex Group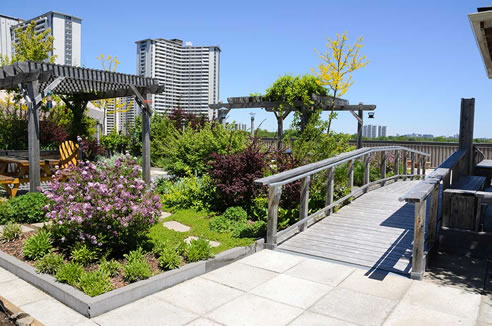 What to Consider When Designing and Building Your Own Rooftop or Balcony Garden
As our cities get bigger and our personal living spaces become progressively smaller, more people are turning to rooftop and balcony gardens as a way of utilising wasted space and bringing nature back to our urban environments.
Every building has a roof, so the idea of putting a garden up there should be an obvious option. Why? Because in the absence of a normal backyard, a rooftop garden can provide everything offered by a traditional garden, with the added bonus of a wonderful view.
In this article, we look at the benefits of rooftop and balcony gardens, the basic steps involved in building one and the importance of including professional waterproofing in the design to ensure the integrity of your home.
Rooftop gardens
A rooftop garden (also known as a green roof) is basically a layer of vegetation growing over a layer of substrate across a flat or sloping roof surface. The substrate layer contains drainage and landscaping materials and under this is a protective waterproof membrane, which acts as a barrier to prevent water seepage from above.