Waterproofing Green Podium Gardens from Projex Group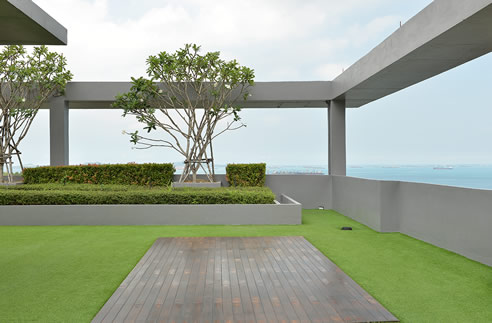 Green podium gardens offer urban dwellers an opportunity to experience green living in the hustle and bustle of inner city living. Often set above the podium in front of the residential tower, it's essential that podiums are properly waterproofed to avoid adverse impact on the day to day operations of the building. In this article, we look at how you can ensure your green podium garden is properly waterproofed.
Good for people
With more and more people living in urban environments, city planners, designers and architects are on the lookout for ways to increase green space. Green podium gardens are a type of rooftop garden that utilises the space above the podium in residential and commercial structures, offering both public and private escapes from the urban environment.
Good for the environment
As urban and industrial environments continue to spread, we threaten the habitats of native flora and fauna. Rooftop and podium green spaces don't just help people, they also help flora and fauna. For example, in Toronto, Canada, the Pollinator Protection Strategy Initiative cites rooftop gardens as one way to help protect bee populations that are increasingly disparate. Just one of many reasons why rooftop and podium gardens are becoming increasingly popular.