AllWeather Sliding Glass Clamps from Cowdroy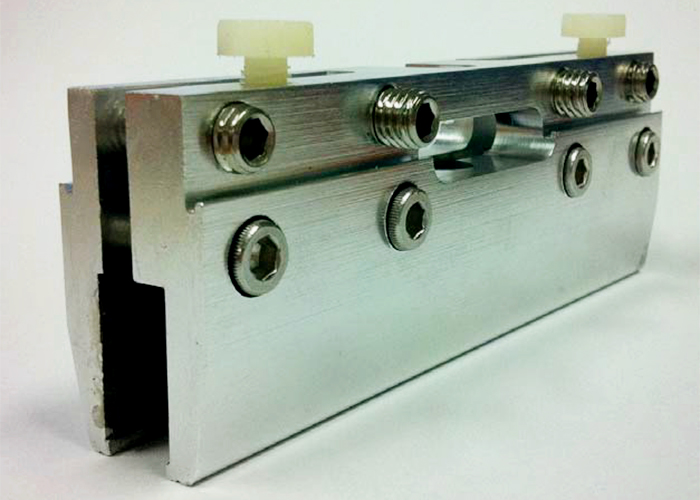 New to the AllWeather Sliding system is an optional Glass Clamp for frameless glass doors. The clamp simply bolts onto the wheel assembly in place of the door mounting bracket to allow the use of a frameless door. The clamp is adjustable to suit glass from 6mm to 10.38mm thick and can carry doors up to 100kg.
To compliment the clamp there is an adjustable bottom guide in stainless steel. AllWeather Sliding is ideally suited to internal doors, partitions, and dividers, however, is also suitable for exposed areas where a sealed system is not required.
AllWeather Sliding Glass Range
AW82062 - Aluminium Track 6000mm CA
Extruded heavy duty track with thickened fixing point and "V" groove for accurate drilling. Attractive Clear Anodised finish.
AW83100 - Wheel Assembly 316SS
4 wheel carriage with door mounting plate. Concave wheels allow for superior tracking. Stainless Steel.
AW84500 - Glass Clamp Assembly
Aluminium clamp with 8 locking screws, grip pads, and depth adjustment from 6mm to 10.38mm. Brushed aluminium.
AW84700 - Glass Guide Assembly
An attractive bottom guide assembly with screw adjustment. Stainless Steel.
AW82200 - Track Wall Fix Bracket
A wall fix bracket to fix the track to the wall. Stainless Steel.
AW82600 - Door End Stop
A concealed fitting door stop. Black Nylon.
AW83600 - Track End Cap
A push-in track end cap. Black Nylon.
For more information regarding AllWeather Sliding Glass Clamps from Cowdroy, visit www.cowdroy.com.au.