Louvre Roofs for Outdoor Entertaining Areas from Vergola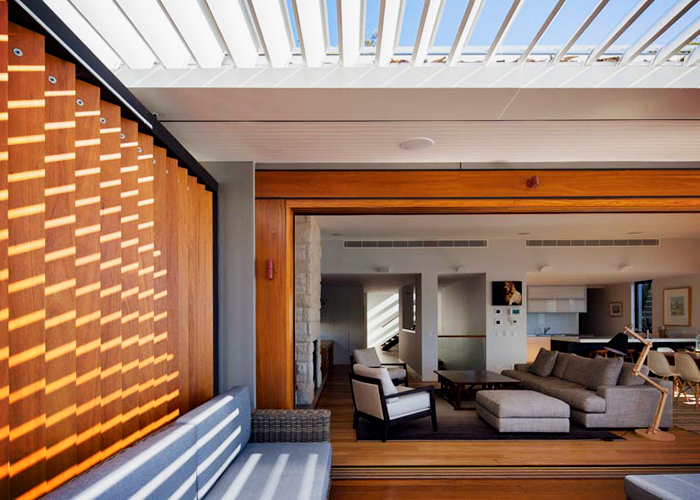 Lift the Ambience of Your Home With a Vergola
For anyone who wants to lift the ambience of their home, covering their outdoor entertaining areas with a Vergola is the perfect solution. Vergolas are luxury additions to new or existing homes, and their opening and closing louvres mean you can use your outside entertaining area in any kind of weather at any time of year. At the touch of a button, you can shut the sun out or allow the sun and cooling breezes in. So for extra shade in summer or sun in winter an award-winning Vergola is an obvious choice.
The Vergola Rain Sensor
Most Australians feel fortunate to live in a country with such a fabulous climate, which is why the trend in blurring the demarcation line between inside and outside has been taken up with enthusiasm. This has dramatically increased the demand for roofing solutions that allow people to entertain in their outdoor spaces even during a storm due to the Vergola rain sensor. Imagine being halfway through a dinner party on the patio when the sky clouds over and a sudden downpour ruins everything. The Vergola rain sensor detects the first hint of rain and closes the whole roof automatically and opens it up again when the sky clears.
The Vergola Story
Vergola roof louvre systems were created and designed in South Australia in 1984 by leading Engineer Tony Rossiter, and his creation won the Australian Design Award and Prince Phillip Design Awards in 1984, and again in 1987. All NSW Vergolas are made at the Vergola factory located in Terrey Hills on Sydney's Northern Beaches. Vergola has had more than 40 years of experience specialising in the home improvement sector. It is evident when you look at examples of the completed roofing system that a lot of love and passion went into the design.
The popularity of Vergola is proven by the more than 12,000 Vergola roof systems installed in homes and businesses across Sydney and Northern NSW since 1988. Due to the superior design and quality, and exceptional customer service, homeowners and commercial organisations continue to opt for Vergolas to improve their outdoor covered areas. The unique aerofoil wing-shaped louvres provide maximum insulation to keep customers, families and friends cooler in summer and warmer in winter, blocking out wind and rain and also serving as a privacy screen or for noise control.
A Vergola Can Add Value to Your Home
Apart from lifting the ambience, a stylish Vergola can add value to your home and create an extra outdoor room which is perfect for entertaining or just relaxing in the sun or shade. And if you're selling your property, a Vergola will attract buyers, so it's an asset to any home, according to Stephen Doyle, Director, Doyle Spillane Real Estate. A Vergola design consultant will take into consideration the existing design elements of a home, the positioning of the sun and any other building considerations. Vergola's quality control is second to none, and Vergola's frame and beam cappings offer seamless attachments to buildings, and you can change the ambience of your patio or home at the flick of a button at any time of the day or night.
Vergola Made it onto 'The Block'
Vergola was chosen to supply its innovative opening louvre roof system to The Block television program featured on The Nine Network.
Get in touch with us today to discover how adding a Vergola will lift the ambience of your home and outdoor living area. We can arrange for one of our Design Consultants to visit you and present the features and benefits of integrating a Vergola to your home. They'll prepare an initial design and quote for your consideration, and you'll be one step closer to having the outdoor living area you've always dreamed about. Call or enquire online www.vergolansw.com.au.