Winter Paint Colour Trends 2020 by Dulux
Winter
The Indulge palette of the Dulux Colour Forecast is a colour cure for gloomy winter months. Soft lilac, yolky mustard, and saturated berry tones encourage us to gather around a crackling fire and settle in for the season. Get ready to cocoon your home office or study nook in colour, luxurious details, and comforting curves using the Dulux Colour Forecaster led by Interior Designer, Bree Leech.
Banish the Winter Blues with Rich, Decadent Tones and Luxe Detailing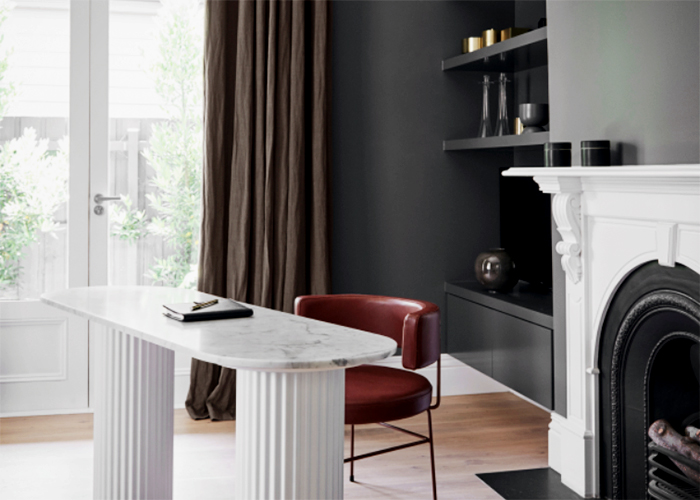 Before - Steely grey is swapped for this rich Russet Tan, creating a space where you'd want to linger.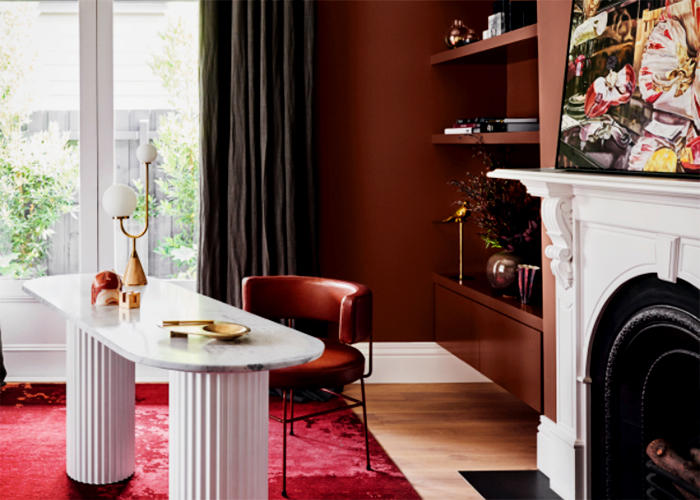 After - A contrasting fireplace commands attention, while a large rust and coral rug provides softness underfoot. Featured artwork: 'Still Life with Dianthus and Bee' by Dena Khan.

"Deep burgundy, soft violet, and accents of coral and mustard feel opulent and exciting, with hints of art deco and 70s disco adding a touch of nostalgia," says Andrea Lucena-Orr, Dulux Colour & Communications Manager.

Create Your Moodboard

Designing a moodboard helps plan your space and set a vision of what you would like to achieve. Create your own moodboard with Style Sourcebook.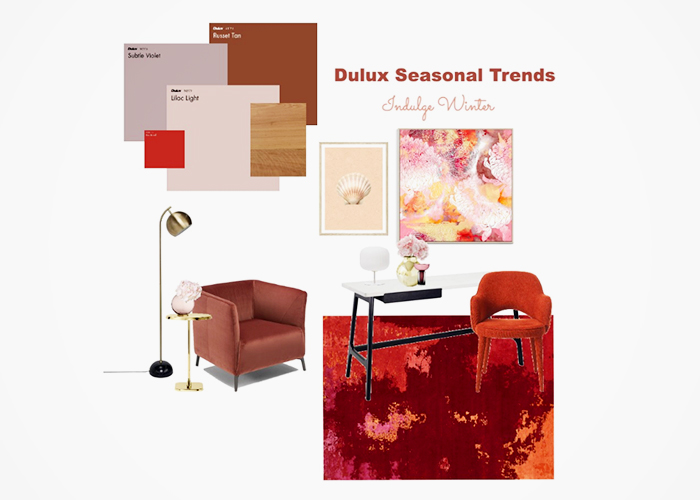 Featured artwork: 'Golden Shell' and 'Chrysanthemum' by Seascape Living.
Light and Shade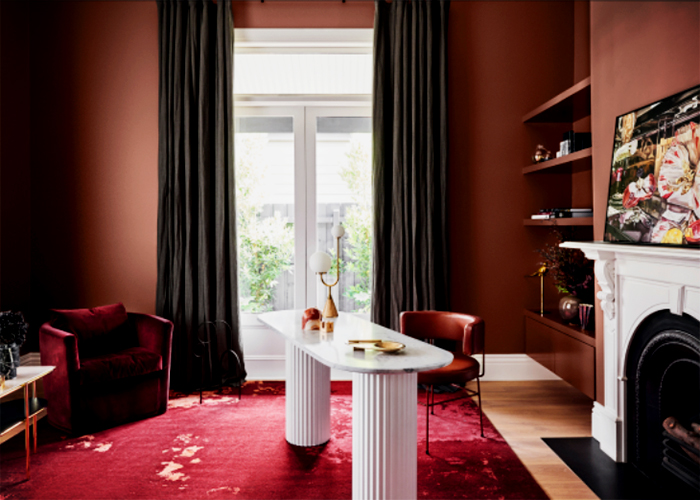 Featured artwork: 'Still Life with Dianthus and Bee' by Dena Khan.
Whether you prefer your colour schemes dark and dramatic or plush and pastel, the Indulge palette can be adapted to suit your spaces. For the bold, look for velvety shades of burgundy and eggplant. For softer schemes, opt for a soft grey-violet, calico or lilac.
Choose a hero colour and display it in different shades across your walls and soft furnishings, with one or two contrasting accents to provide that element of surprise.
A Study in Subtlety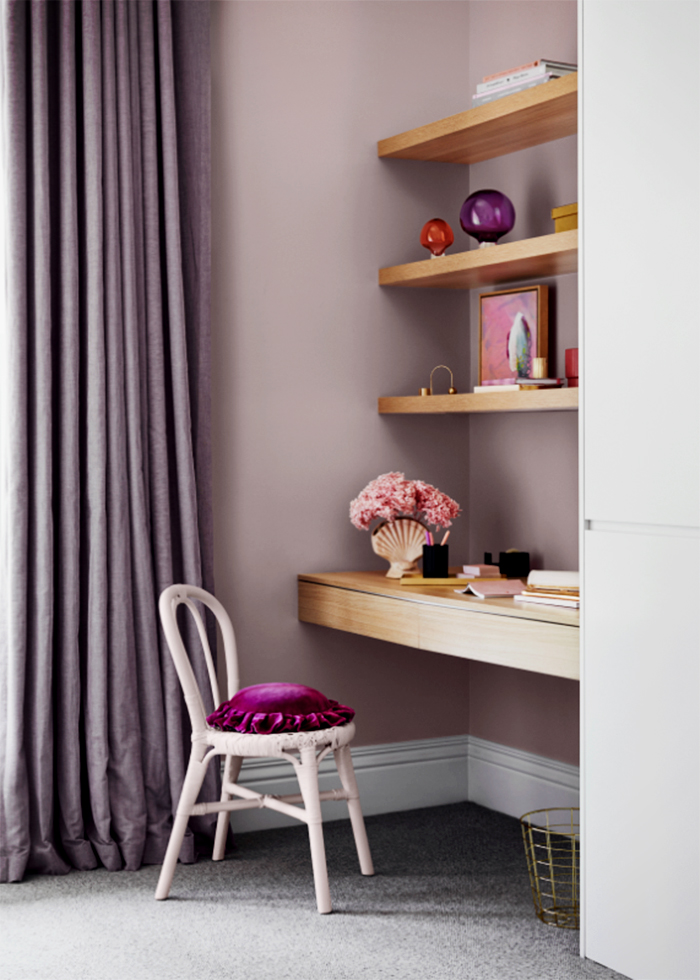 Featured artwork: Kate Dambach 'More than we could know', supplied by Modern Times.
High ceilings and blonde timber joinery inspired Bree Leech to take a lighter approach to this study nook. A soft shade of Subtle Violet restores warmth without overpowering the space, and stands out from the crisp, Vivid White™ skirtings. To carry the tonal theme through, Bree styled the space with pink and violet ornaments - giving the chair a lick of Lilac Light paint for good measure.
Order Sample Pots and A4 Swatches
Selecting the right colour can be tricky, that's why we have 100ml sample pots and A4 colour swatches available to purchase online. Simply click on the colours you love to place a sample order.
Giving into Grandeur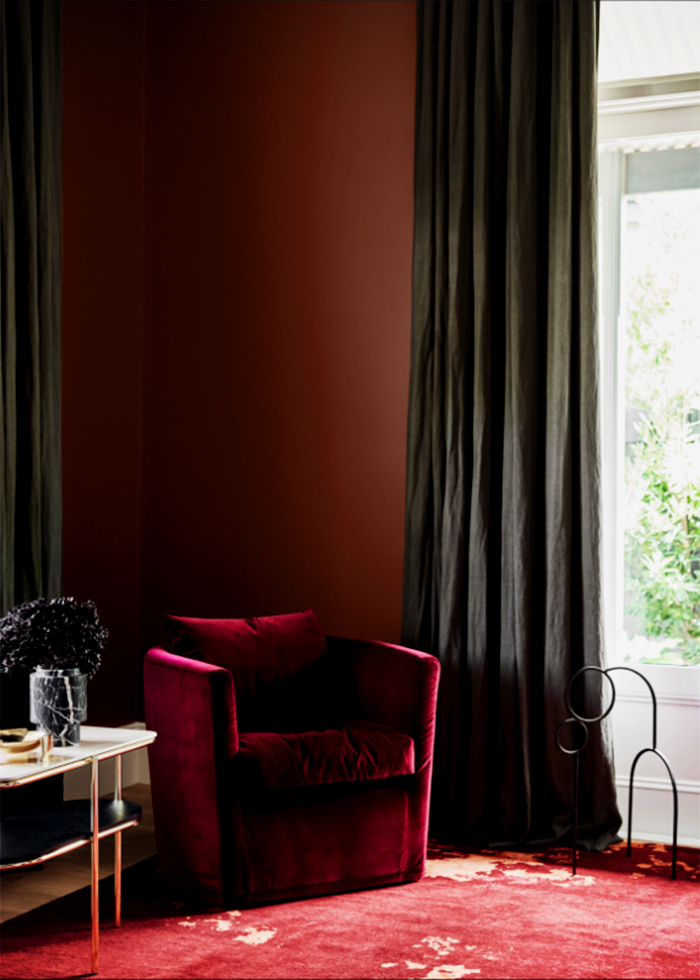 Saturated hues and sumptuous textures were a natural choice for Dulux Colour Forecaster and Interior Designer, Bree Leech. But using a bold colour contrast between the walls, ornate cornicing, and that beautiful fireplace, Bree was able to further accentuate the existing features in this grand home office.
Fresh flowers, pink and violet glass pieces, plus a hint of gold can reinforce a more feminine palette.