Opening & Closing Roof Systems - Top 5 FAQs by Vergola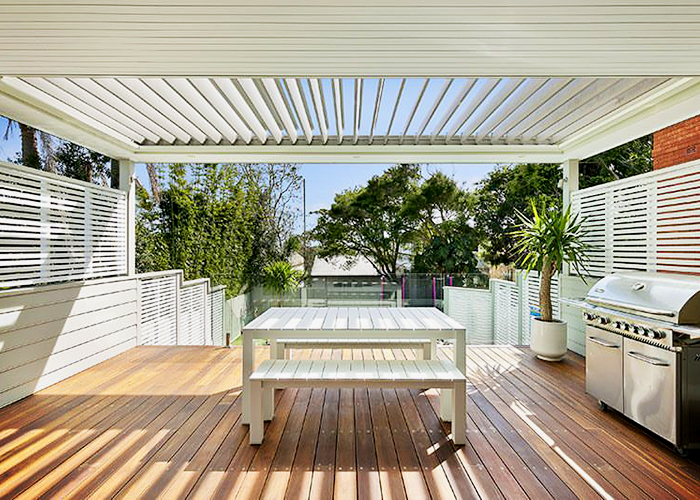 Vergola's 5 Most Frequently Asked Questions
If you are considering installing a Vergola for your home or business, here are some of the questions we are most frequently asked that might help you decide if a Vergola opening and closing roof system is right for you.
What is the benefit of using BlueScope® COLORBOND® steel versus aluminium?
We use BlueScope® COLORBOND® steel because it is Australia's leading roofing material and it is a poor conductor of heat thus limiting heat transfer and keeping the underneath of your outdoor area cool in Summer. Aluminium is one of the highest thermal conductivity metals and is known for its heat transference.
Vergola® uses Australian-made BlueScope® COLORBOND® steel that features four layers of protection over a quality steel base. This material creates a surface that is highly resistant to corrosion and maintains a beautiful appearance for longer. Manufactured in Australia to Australian Standards (AS1397 and AS/NZS 2728) and tested in some of the harshest Australian conditions over the last 50 years.
Is my Vergola® rain-proof?
Yes. Under normal weather conditions, even steady rain, your Vergola® itself will not let rain in. In light rain, the louvres can remain partially open for ventilation if you wish, but for heavier rain, the fully closed position will block out rain with the louvres overlapping each other. In a very heavy downpour, you may rarely get a fine spray through and if a downpour is heavy enough for your house gutters to overflow, your Vergola gutters may do the same. We have set the reopen position to 15 degrees for after a rainfall to keep your area dry but if overridden, Vergolas can drop water when it is opened too far.
Rainproof does not mean totally waterproof - remember a Vergola is an adjustable, opening roof. Low angle, high pressure jets of water can force themselves between the louvres or around the guttering. Above all, it should be remembered that a Vergola is not and cannot be as waterproof as a conventional fixed and tiled roof. Whilst your open Vergola brings the benefits of an "indoor-outdoor area," it is not 100% proof against severe weather conditions.
How does a Vergola manage in strong winds?
Vergola® were designed in Australia for its harsh weather conditions which frequently include winds of tropical cyclone strength. The relevant Australian building standard with which Vergolas comply are AS1562 (which sets out the requirements for design and installation of self-supporting metal roofs), and AS1170.2 (which sets out requirements for wind loads used in design of structures).
What is the maximum area that a Vergola® roof system can cover?
There is no limitation to the size of a Vergola® roof system - it can comprise any number of bays. Each bay has a maximum dimension of 5 by 3.6 metres, and up to 15 bays can be controlled by a single control system/remote control. Roof systems comprising of more than 15 bays have multiple controllers.
What are the advantages in choosing Vergola?
Company benefits:
Vergola® has operated for 32 years under the same private ownership, and offers reliability, unsurpassed quality, and the name of the Market Leader.
We have our own building license and use fully qualified subcontractors to do the installation work, whom work primarily for Vergola.
Vergola employs 60 staff to manage its business affairs.
Vergola has an in-house after sales service department, so any potential issues can be managed quickly and efficiently. You are not waiting while the "subbies" who did your job are tracked down to try and attend to whatever the issue might be.
Vergola partner with a cleaning service, which is suggested annually by way of mail out invitation.
Vergola is fully insured, and provides Home Owners Warranty Insurance as part of your contract where required.
Anecdotal benefits: Feedback from clients, builders, and architects who have used Vergola and other systems;
The Vergola louvres close quicker.
The Vergola system is much quieter than other systems offered in the market.
The louvres look to be of better quality, other louvres look "flimsy."
The installers are professional, efficient, and tidy.