The art of building the Classic Curved Stair from S&A Stairs - for the best stairs on time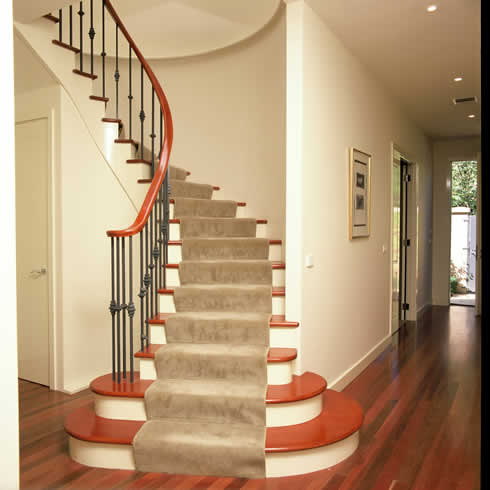 S&A Stairs, builders of quality staircases, are a true Australian success story and for over 85 years been the trusted colleague of Australia's quality home builders who wanted something extra.
S&A Stairs innovative design philosophy and attention to detail makes a perfect match for any stunning home, in either traditional or contemporary style. This industry unique design partnership has moved the finished product to a dynamic new level.
S&A Stairs have been the curved (geometric) staircase builders of choice in Australia for over 80 years.
The art of building curved stairs can not be learned overnight. We carefully select and train a specialised team of people who we recognise as having the patience and skills required to visualise, design and craft a geometric stair to the customers' particular requirements.
Company founder, Alec Acquroff learned the art of crafting geometric staircases in Edinburgh almost one hundred years ago. Whilst he would be overwhelmed by the precision and speed of our state of the art computerised machinery, he would instantly recognise our ability to design stairs with a meticulous eye for line and detail as his legacy passed down through the generations.
03 9532 0224
Melbourne: 31-41 Woodlands Drive, Braeside, VIC, 3195
Queensland: 13 Enterprise Street, Molendinar, QLD, 4214