With mission to produce quality products Synteko release two new oil finishes, Synteko Urethane and Synteko Solid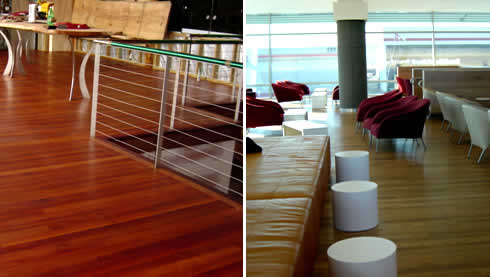 Synteko Solid Ironbark & Synteko Solid Qantas Lounge
Synteko's mission is one of producing uncompromising quality products. Synteko floor coatings have been at the forefront of timber floor finishes technology for the last 35 years. This policy is especially carried through to its oil range of timber floor finishes.
Synteko has developed two world class leading, yet distinctly different oil finishes. Namely, Synteko Urethane and Synteko Solid.
Synteko Urethane is a superior quality oil modified polyurethane engineered floor finish. This floor finish is renowned for its depth of beauty and because of its high solid content, is extremely durable. Synteko Urethane is a universal product enabling it to be used on any species of timber floor. Urethane gives the timber floor finish richness of colour while offering maximum protection.
Synteko Solid is an innovative very high solids oil finish based on natural oils for timber floors. Solid is characterised by an exceptional high yield coupled with extraordinary abrasion resistance which is obtained through no evident film left on the surface. Solid penetrates deeply into the wood surface enhancing the natural beauty and warmth of the wood. This results in an extremely durable finish requiring a minimal of maintenance
A unique feature of Synteko Solid is the ability to modify its basic colour by adding a range of pigmented colours.
Synteko has the floor finish system to meet your needs.