Thermofilm heats up The Vertex at Federation Square, Melbourne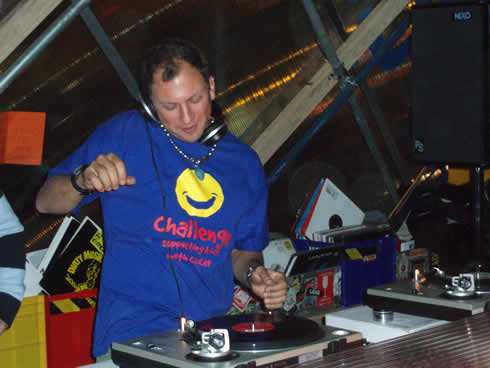 Thermofilm Australia donated several radiant heating panels, to warm up English disc jockey - DJ Promo - while he broke the Guinness Book of World Record in marathon disk jockeying.
When DJ Promo was developing the concept around his attempt to smash the World Record in continuous disk jockeying, his managers thought Melbourne's Federation Square, a perfect venue.
Taking into account that DJ Promo was going to be on his feet for more than four consecutive days, potentially 100 hours, his comfort was paramount.
The visually stunning and purpose-built venue, called The Vertex, was pyramid in shape and designed to complement Federation Square's contemporary image. It featured frame-clad scaffolding, in revolutionary polycarbonate thermoplastic, and UV-resistant sheeting, which gave the structure a transparent look.
Although weather-resistant and boasting excellent thermal insulation, it still required an internal heat source. Thermofilm Australia donated several BLISS and THH HEATSTRIP heaters for use during the world-record breaking attempt.
To provide DJ Promo with personal heating, a THD 320 Bliss radiant personal heater was mounted to the front of the DJ console. This slim line, silent heating panel provided gentle radiant warmth directly to his feet, legs and knees.
Another THD 240 Bliss heater was positioned under the computer operator's desk and a final THD 320 Bliss heater was located near the St John's Ambulance volunteer station. The portable mounting feet supplied with these units enabled these personal heaters to be moved to where they were most needed throughout the event.
Three THH 2400 Heatstrip high intensity radiant heaters were mounted on a support beam that traversed the structure. These stylish, slim line heaters were angle mounted to provide gentle radiant heat to the whole back section of The Vertex.
According to Matt, DJ Promo, the result was amazing.
"Without the warmth, I wouldn't have been able to achieve the 87 hours of continuous disk jockeying."
"The heating panels provided by Thermofilm warmed up the air enough for me to be comfortable but not too much to make me sweat. It created a perfect environment in which to work so I could concentrate on turning tracks," he said.
DJ Promo's attempt at the Guinness Book of Records began at 9.00am Monday June 12 - Queen's Birthday holiday.
The existing record of 84 hours had been set in February 2005 by British DJ, Genix, and DJ Promo broke the record by reaching an amazing 87 hours of drug-free, continuous disk jockeying - an amazing achievement!
The event supported two Australian charities including The Big Issue, an organisation that helps homeless and long-term unemployed people and Challenge, an organization that supports children with cancer and life-threatening blood disorders.
Thermofilm Australia was delighted to assist on this momentous occasion.