Schools quietened by Acoustica - the Quiet Australian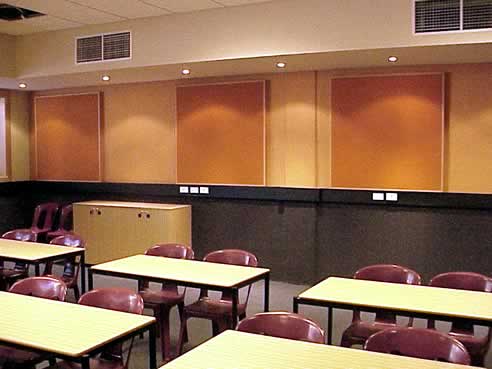 Acoustica, the Quiet Australian, has a diverse range of noise barriers, acoustic baffles, soundproofing and noise control products for educational institutions.
For classrooms EchoStop® combines good looks and performance. Widely used in classrooms, the decorative acoustic wall covering is pin, staple and 'hook and loop' receptive which is ideal for mounting student projects and school notices. Available in 30 fashion colours, EchoStop® provides a quiet learning environment for students by the treatment of reverberated sound.
For sound control in larger areas such as assembly halls, indoor swimming pools and sports areas, EchoSorb® acoustic absorber is designed to combat noise in the medium to low frequency region. EchoSorb® can be hung as a baffle or fixed to ceilings and walls where it can also be painted or covered by fabric.
The Kliptex® acoustic stretch fabric system is used when an architectural finish is to be combined with the acoustic treatment of walls or ceilings. Kliptex® is ideal for meeting rooms, auditoriums, theaters and libraries. Kliptex® combines superior acoustic performance with the warmth and beauty of custom fabrics. Kliptex® architectural finish panels can be installed over any surface and fabrics can be easily removed for cleaning or redecorating.
AngelStep is an acoustic underlay for both resilient and solid flooring and Acoustica's HD White Batts and Acoustiflex are used in mid floor and ceiling cavities for noise control. Acoustiflex is also used as a sound curtain around construction zones to temporarily protect nearby building occupants from construction noise.
Acoustica also offers soundproofing solutions for sound studios, machinery enclosures and plant rooms.