Interior Signage Sydney from Architectural Signs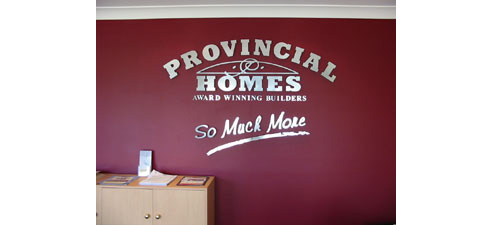 Interior signage, in many cases, is every bit as important as outdoor signage. General instructions, identifications, sales promotions, menus, etc. can be presented to your clients only after they have entered your premises. Interior signage also plays a very important part in a business and can often contribute to the success or failure of a companies operations. Signage helps direct customer flow around a shop or shopping centre. It also encourages impulse purchases and highlight particular promotions as a point of purchase display. These signs are a very affordable way to advertise a brand, a product or a service at a trade exhibition or road show. Art and music venues are also reliant on interior signage for their stage backdrops and banners.
Reception signage
Striking reception area signs can ensure your customers have a good impression of your business when arriving or leaving. Our in-house designers can work closely with you and your business to achieve not only an appropriate and cost effective way of making your business come to life but also to ensure the finish of the signs match the look and feel of the business. We can transform your office into an area that is fresh and bright looking, or stylish and conservative - it is amazing to see how effective, quality signage can transform your office space.
Directory Signs & Office Directory Signage
As specialists in all types of indoor signage, we work with a wide range of materials and designs to translate your company's logo into a powerful office sign that truly reflects your image. Whether you're looking for brushed aluminium letters, dimensional logos, digitally printed graphics or brass plaques, we offer a wide range of directory signage that combines elegant design with ease of use. Whether you need small office directory signs for a building with just a few offices, or a larger directory sign to accommodate 100 tenants, we have a directory sign solution that meets your functional needs while offering the beauty of a well designed directory at a competitive price. We can manufacture to specifications or use a large range of modular systems including S2K, Vista, Slatz and Navigator.
Custom Plaques
Custom plaques bring a unique appeal to your business, combining the elegance of high quality materials with your individual logo or specific text. We offer plaques in a wide range of materials, including brass, stainless steel, bronze, aluminium and others. Whether you're just looking to have text engraved on a simple bronze plaque, or would like to replicate the custom colours of your logo on stainless steel.
We also offer a range of other signage solutions for your business including Outdoor signage, Braille and Vehicle signage catering to the needs of your office. Since 1979, Architectural Signs has continued to strive to be innovative and customer focused - to such an extent that we are now recognised as one of Australia's largest trade engravers.