Vinyl Wall Cladding Duratuff Over Brick from Austech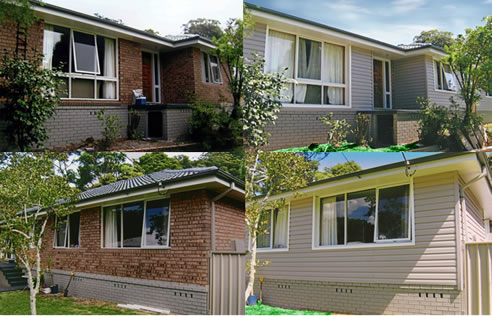 Home Owner Swaps Dowdy Brick For Vibrant Vinyl Cladding
A Central Coast couple recently decided to clad over their brick home with Duratuff Vinyl Wall Cladding, an unusual but smart choice that has breathed life into this once old and dark home.
Vinyl cladding is a lightweight cladding option which can be attached to most existing substrates easily. Vinyl cladding is especially popular on second story additions and extensions, since its light weight nature reduces the need for structural support, plus it requires no painting, sanding or sealing, so once it's up, its finished, and your home is back to normal sooner.
The house had old and dull bricks that made it look tired and uninviting. The owners were told to render it, but they knew render was very expensive and high maintenance. They were also instructed to just paint the brick, but they didn't want to be locked into years of peeling paint and repainting.
After much deliberation, they chose Cladding & Re-Roofing Pty Ltd to install Duratuff Select Vinyl Wall Cladding to cover their entire house, and chose the colour 'Heather', a soft gray that complimented their existing Colorbond fence. Cladding & Re-Roofing Pty Ltd was also able to provide them with the Dulux colour matched colour for their cladding, so they could paint the remaining footings to match the cladding.
Austech also has a range of accessories available, including corners, soffit, window trim. This home owner chose to go with the range of Designer Window Trims, a thicker trim that accentuates the windows and gives a stylish finish.
Bricks alone provide little insulation, and older homes normally have no wall insulation. Duratuff Select Vinyl Wall Cladding has a preinstalled expanded polystyrene backing, wrapping the house in insulation. This added insulation reduces the pressure on heating and cooling, reducing energy consumption and your carbon emissions.
Austech has worked hard to generate an extensive colour range, with 9 modern lighter colours, and 5 darker Colour Scapes colours, with built in UV-resistance. Every colour comes with a 50 year guarantee, so there is no need to paint for the life of the product.