Austech Opens New Stone Display at their Head Office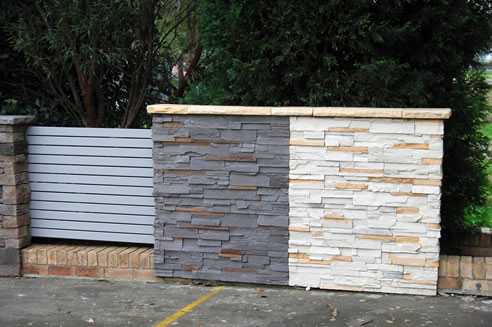 Austech External Building Products has unveiled a new external display showcasing its range of Craft Stone wall cladding, as well as its new Screen In A Box product.
The new display features 11 different varieties and colours of stone as well as the different colours of Screen In A Box, including the Eurowood Finish. The display is located outside Austech's Blacktown office, so it can be viewed outside office hours by anyone interested in the product. With the display outside, it is exposed to all the elements, so you can see just how well the stone weathers.
Normally stone is displayed on many small portable boards, but Austech wanted to re-invent the way stone is displayed by creating large fixed displays that can truly demonstrate what the finished product will look like. Every sample is at lease 1m2, making it much easier to see each unique stone and envisage it in your next project.
Every stone has both flats and corners, so you can see the unique cornering system that makes CraftStone effortlessly wrap around corners without seams or joins. Good corners are vital to make stone cladding appear natural.
One of the most popular walls is the new Blend wall. A Blend is a mixture of 2 or more styles that creates a unique feature. Austech chose a 50% Southern Ledgestone and 50% Dressed Fieldstone blend, with both stones in Chardonnay. Keeping the colours the same provides unity, but you can mix the colours up to create some striking results.
Stones on display include:
Craft Stone
Vintage Ledgestone - "Alpine"
Vintage Ledgestone - "Pewter Gray"
Stacked Ledgestone - "Cabernet"
Mountain Ledgestone "Cabernet"
European Castle Stone "Golden Blend"
Austech's external display can be viewed every day, with an internal display also available during office hours. Austech also has many other displays in major cities Australia wide, contact your nearest Austech office for your closest display.