Aluminium Timber look Fencing and Screens by DecoWood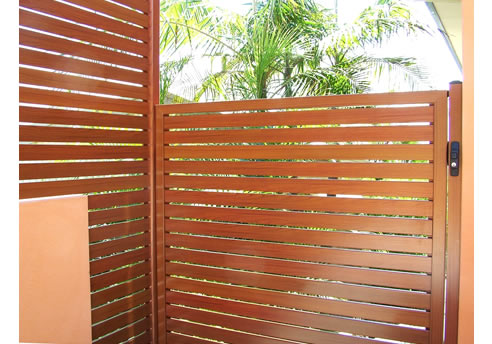 Durable DecoSlats - the timber alternative for
fencing, gates and privacy screens.
Steve Tucker's neighbour has never looked back since the builder convinced him not to use timber for privacy screens and a gate around his courtyard, but to use DecoWood™ aluminium slats instead.
"I told them that they should use DecoWood™ instead of timber because of the maintenance. If they had gone with timber they would have had to paint it in six months time, and again in twelve months, and every year after that," said Mr Tucker of SJ & LM Constructions.
"That's a lot of time and effort saved by using DecoWood™."
Another reason for using DecoWood™ slats instead of timber was that the colour and the wood itself would deteriorate over time. Four years on, Mr Tucker's neighbours are very pleased with how good their DecoWood™ still looks.
DecoSlats are easy to install with mitre cut post corners fixed with an internal corner stake, so you can colour match the frame to the fence. The slats are easily screwed or pop riveted into angles fixed to the internal side of the post.
DecoSlats, angle channels and post corners are kept in stock from Capral Aluminium in DecoWood™ Western Red Cedar.