Roller Blinds from Blinds by Peter Meyer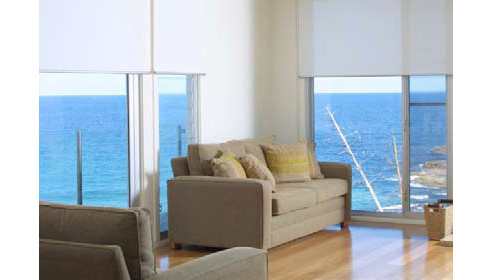 Styles: Chain driven rollers [ stainless steel chain ] or motorised.
Fabrics: Sunscreens, sheers, dimouts and blockouts. Thermal properties. We have a fabric to suit almost every need. See our easy read data sheet for properties of specific fabrics.
Privacy: Varies with fabric.
Motorisation: Highly suitable.
Options:
Brackets: White, black, grey, beige and Premium.
Base bars: 22mm - Clear anondised, white, beige, cream, black, grey, & chrome.
Chain: High quality stainless steel or coloured plastics. Spring assist lift and linking. Wire side guides
Pelmets: Fabric and aluminium.
Maximum Size: Fabrics available up to 3200mm wide for screens and 3000mm for blockouts. At maximum size some deflection in the fabric is acceptable. Linking is available to achieve large, continuous runs.
Flame Retardency: Many screens are inherently flame retardant.
Warranty: 3 Years