Ballast Mats Rail from Projex Group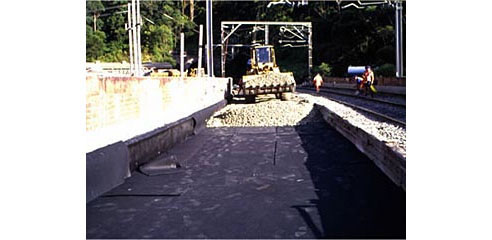 SHOCKMAT has many commercial and industrial applications and is ideal as a protective medium. It is also widely used on railway bridges for ballast protection, waterproofing membranes, or as a sound reducing medium. As a membrane protective medium SHOCKMAT is cheaper and easier to install than tiles or concrete screeds - you simply just roll it out.
Purpose of Shockmat under Ballast:
Reduce sound transmission.
Protect any membrane on the bridge deck.
Lengthen the life of the ballast by absorbing the ballast vibration against the bridge deck.
SHOCKMAT has been widely used under ballast on Australian Rail bridges since 1992.
Shockmat Is:
Water Permeable
Non Water Absorbant
Chemically Neutral
Reliable for the Protection of Waterproofing Membranes
Can be Walked On Immediately After Installation
Can Be Laid By Waterproof Contractors (or anyone else)
Deadens Sound - Airborne and Impact
Can Be Loose Laid Or Bonded Down
Can Be Installed In Any Weather Conditions
Can be bonded down with recommended adhesives.
Cannot Be Electrostatically Charged
Resistant to Corrosive Effects of Air, Earth and Water
Resistant to Construction Acids and to Alkaline Solutions
Suitable For Use in Tanks, Coolrooms and Food Storage Facilities
Non Toxic