Operable Louvre Roof System from Vergola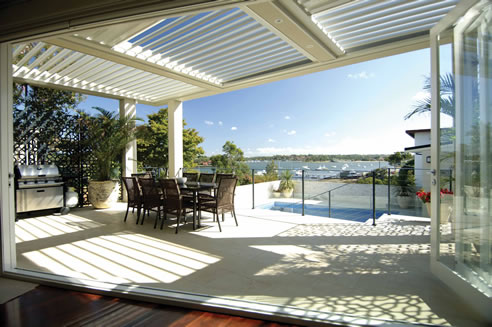 Top quality ... Vergola outdoor louvre roof system from Vergola (NSW)
For quality and style you can't go past Vergola
Vergola is the world's first complete operable louvre roof, boasting unmatched performance and quality.
A Vergola outdoor roofing system is built to last.
Established 21 years ago, Vergola (NSW) Pty Ltd is the only company among its competitors that specialises in the manufacture, distribution and erection of its operable system.
Vergola (NSW) has a well-earned reputation for quality and after sales service.
The design team at Vergola (NSW) specialise in the design and drafting of the Vergola System and are always available for consultation for your project. Vergola's professional trades people check, measure, manufacture, erect and install the system to your complete satisfaction.
The company's success can be attributed to a combination of service, premium materials and cutting-edge technology.
The Vergola System attributes its unmatched performance to the simple and elegant design of its louvre. The dual skin aerofoil shape constructed from Colorbond® steel provides strength and durability. It also provides insulation from heat reducing thermal radiation keeping the protected area below much cooler than you could achieve with other solid extruded systems.
A world first finishing frame, beam cappings and completely seamless attachments to dwellings ensure the finishing of the Vergola System is second to none.
Vergola is widely used as a protective cover for outdoor areas including decks, patios, courtyards, verandas and swimming pools.
It is available in a wide range of colour combinations using powder coating as well as standard Colorbond® colours.