Data Centre In-floor Cooling Solutions from Tate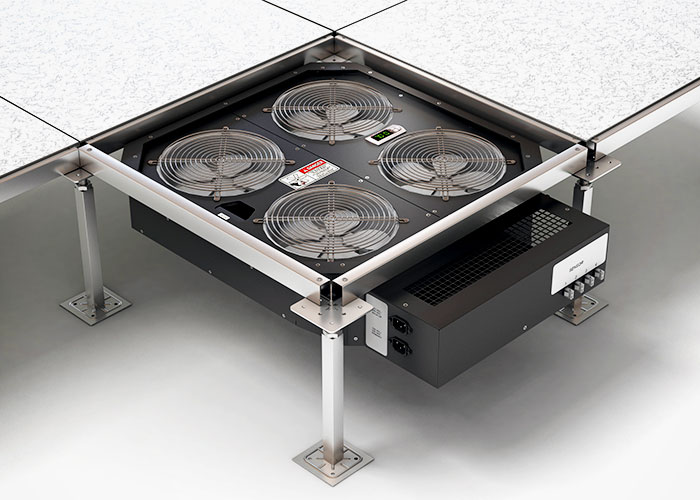 Tate expands data centre cooling solutions
with PowerAire® Quad fan assist module
New four-fan solution provides built-in redundancy;
ideal for retrofit situations with low finished floor heights
Tate, a market leader in the manufacture of raised floors and airflow management solutions, introduces a new addition to its product offering for the data centre market - the PowerAire® Quad fan assist module. The module uses four fans connected in parallel to provide built-in redundancy.
Like the original PowerAire® fan-assist module, the PowerAire® Quad effectively manages the cooling requirements for dense server racks and blades. It provides a blast of cooling through the DirectAire® airflow panel. PowerAire® Quad is only four inches deep, making it ideal for retrofit situations with finished floor heights as low as 190mm. The unit automatically turns on when conditions require additional cooling, with multiple control options available:
PowerAire® Quad C - client controlled
PowerAire® Quad S - 1 rack-mounted sensor
PowerAire® Quad M - 3 rack-mounted sensors
Equipped with variable-speed fan drives, all four fans can be throttled up or down based on heat-load requirements. This makes PowerAire® Quad an ideal solution for cooling the toughest hot spots in a data centre. PowerAire® is easy to install in retrofit applications or as part of a new, advanced cooling strategy.
PowerAire® Quad also features zero maintenance, high precision and quick response temperature measurement, and viewable peak temperature for walkthrough check of each rack. PowerAire® Quad is easy to install in either 24" or 60cm and is available with 100-120V or 200-240V power input options.
For more information about Tate's data centre solutions, download the brochure at www.tateapac.com. For information about other Tate products and services, please visit www.tateapac.com.