Sculptural Works by Australian Artists from ArtPARK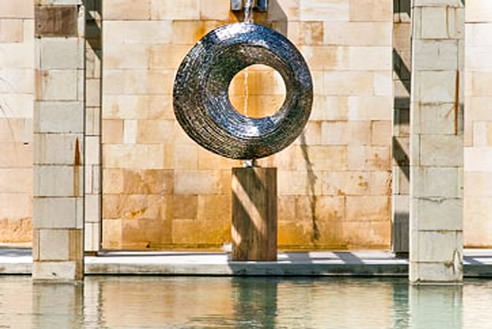 Sculpture makes a clear Statement of style and design...
This stylistic stainless steel piece 'Neo Rising' by artist Master Chen is another fine example of how sculpture can offer a unique blend of visual charm, and striking appeal. The sandstone surrounding the sculpture helps the the stainless steel really pop, yet still remaining subtle and pleasing to the eye.
Throw in the element of water to help levitate this combination even further the sun reflecting off the water slowly dancing across the stainless steel. A truly innovative, yet classic combination of natural elements coming together to create a pleasantly striking environment.
ARTPark Australia can offer the architect/designer or home owner the opportunity to consider a vast range of sculptural works by living Australian artists.
Encompassing internal smaller scale works to large scale works, suitable for commercial or public placement, ARTPark Australia has a form to suit!
In most cases you can then trial particular works in your home /office, with no obligation, to ensure the right choice (conditions apply).