Wall Relief Sculpture by Michael Baird from ARTPark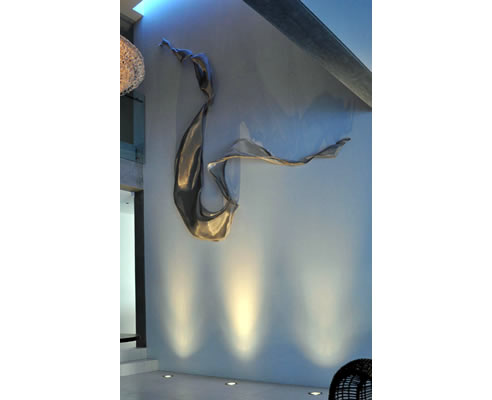 Sculpture makes a clear Statement of style and design...
This timeless wall relief commissioned Steel Mesh 4.5mtr sculpture by artist Michael Baird really brings some organic flare into this space. While accentuating the size of the wall its mounted on and dynamically filling the space, it sits harmoniously in its environment. This sculpture sublimely contributes class and elegance while remaining subtlety dominate.
Floor based lighting really adds a striking element, the light dances off the flowing curves of the steel mesh creating a pleasantly heavy contrast of shadow and light. A great example of what our service can achieve for your unique space, and individual needs.
ARTPark Australia can offer the architect/designer or home owner the opportunity to consider a vast range of sculptural works by living Australian artists.
Encompassing internal smaller scale works to large scale works, suitable for commercial or public placement, ARTPark Australia has a form to suit!