Giant Outdoor Sculpture by CVL from ARTPark Australia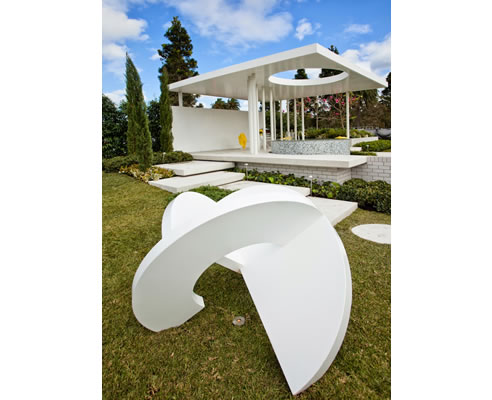 Sculpture makes a clear Statement of style and design...
This wonderfully giant white sculpture by artist CVL really speaks loudly to those you want to listen. Constructed of mild steel it will be set like stone in any environment for years to come. Feeling right at home in this picture from the 2014 Australian Garden Show. Think outside the box when you think of sculpture and how it could influence your life and your space.
ARTPark Australia can offer the architect/designer or home owner the opportunity to consider a vast range of sculptural works by living Australian artists.
Encompassing internal smaller scale works to large scale works, suitable for commercial or public placement, ARTPark Australia has a form to suit!
In most cases you can then trial particular works in your home/office, with no obligation, to ensure the right choice (conditions apply).
We have a perennial exhibition program throughout Sydney's CBD offering examples of the artists work in the sumptuous environment of some of the city's finest building Alternatively search the site www.ARTPark.com.au to preview the work before coming in to see it in the flesh.