Passenger Terminal Concrete Waterproofing from Radcrete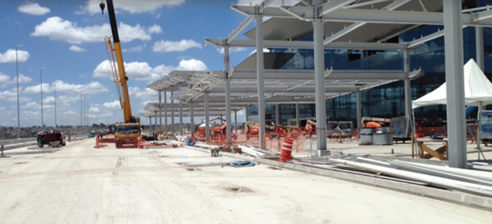 Sao Paulo GRU International Airport, BRAZIL
RADCON Formula #7 - fast tracking construction of the new T3 Passenger Terminal at the São Paulo/Guarulhos - Governador André Franco Montoro International Airport.
RADCON proved to be the uncontested waterproofing alternative for this 11,000 square metre raised pre-cast platform, with application completed in 15 nights - allowing for subsequent asphalt coating - time significantly shorter than minimum of 60 days required for traditional membrane application.
Construction of this state-of-the-art terminal increased capacity by 12 million to 29 million passengers per year. RADON is ideal for harsh, humid climates with temperatures up to 180° C.
TREATED AREA: Passenger Terminal T3
SIZE: 11,000 sq metres
APPLICATOR: Construtora OAS S/A