Preventing Chloride Ingress with Radcon from Radcrete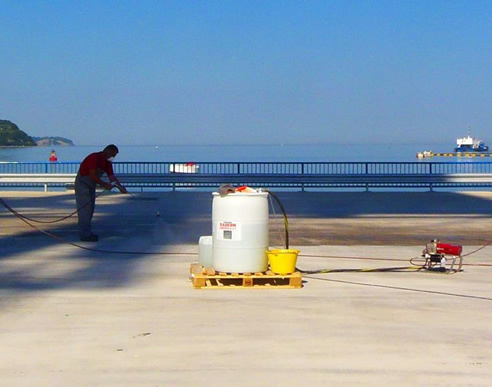 Radcon Formula #7 prevents chloride ingress at European port
Part of the original concrete surface of the Port of Koper in Slovenia was left untreated, part was coated with a sealer and part with Radcon in 2006. By 2014 it was found that the Radcon treated areas were still completely undamaged whilst the other areas had deteriorated badly.
In 2014 the Building Institute of Slovenia investigated these results and due to Radcon's success on the previous areas they decided to use Radcon to protect all the untreated areas.
Because Radcon is so fast to apply, the Applicator was able to treat the entire 6,000m2 in ONE DAY, thus solving the problem QUICKLY and PERMANENTLY.
SITE DETAILS
COUNTRY: Slovenia
SITE: Koper Port
CONSULTANT: Igmat
CONTRACTOR: Adriaing D.O.O.
TREATED AREA: 6,000 m2
YEAR: 2014
SIZE: square metres