Washable Textile Floor Flotex from Forbo Flooring Systems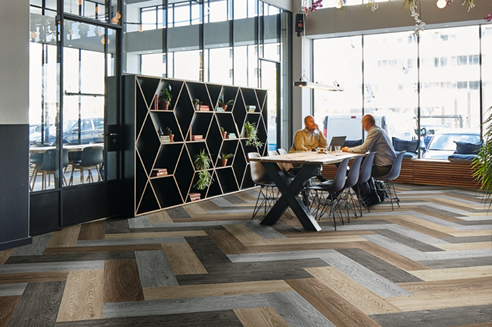 The comfort of a carpet & characteristics of a resilient floor
Flotex is a unique textile floor covering that combines the hard wearing and durable characteristics of a resilient floor with the quality, warmth and comfort of a carpet. Flotex is a strong and hygienic floor, and being completely waterproof, it is also the only truly washable textile floor.
Here are 5 reasons to choose Flotex flocked flooring:
Durable - resists crushing and matting due to 70 million upright nylon 6.6 fibers per M2.
Easy to clean - dense, upright fibres allow dirt & stains to be easily removed by vacuuming, with no loops or twists to trap dirt like traditional carpet.
Acoustics - Sound Absorption (20dB)
Slip resistant wet and dry - provides safety and minimizes liability from slips and falls.
Improved indoor air quality - dirt and allergens are easily removed by vacuuming. Flotex is the only textile flooring material awarded the British Allergy Foundation's Seal of Approval. Therefore, it is suitable for those suffering from asthma & allergies.
Flotex is available in tiles, planks and sheet.
For more information: www.forbo-flooring.com.au/flotex