Durable Plush Carpet Tiles for Airport from Nolan Group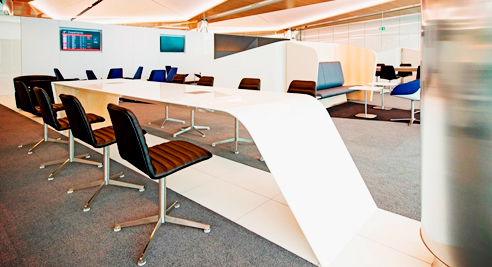 Singapore Airlines Business Lounge: Canberra International Airport
This project is a fine example of how Nolan Carpets can provide a tailored solution to meet your client's individual requirements. The project brief outlined the environment needed to provide a plush finish durable enough to perform in a high traffic area.
To provide both the comfort and durability required for a luxury airport lounge, a customised carpet tile was developed to ensure the client's requirements were satisfied. In conjunction with our partner TOLI, we customised the GA680 carpet tile to 12.5mm pile height (standard pile height is 9mm) with a pile weight of 50.2oz (standard pile weight of 29.5oz).
The result is a stylish and vibrant fit-out which is perfect for travellers to work and relax in between flights.
Project: Singapore Airlines Business Lounge.
Location: Canberra International Airport.
Product: Katto.
Design Company: GMB Architects.