Motorised Folding Arm Awnings by Blinds by Peter Meyer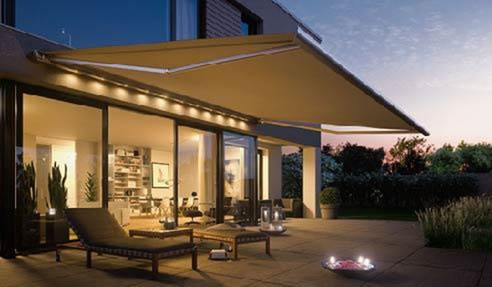 Motorised folding arm awnings from Blinds by Peter Meyer are provided by globally-renowned window experts Weinor. These high-performance products are available in different types to suit the specified requirements of any project. Homeowners and design experts can flexibly gauge their options to get the most in design and functionality. Blinds by Peter Meyer ensures no less than a gold standard of quality in their solutions and services.
Here are the different types of motorised folding arm awnings from Blinds by Peter Meyer:
1. Full Cassette Folding Arm Awnings - The fabric and mechanism of full cassette folding arm awnings are designed to fully protect the assembly from exposure to external elements, such as rain, heat and ultraviolet (UV) radiation. Zenara is one of the best sellers, featuring an avant-garde design that stands out in a competitive market.
2. Semi Cassette Folding Arm Awnings - The semi cassette ensures the safety of the fabric and internal technology of the folding arm awnings. With outstanding profitability in mind, Weinor has optimised form and functionality down to every little detail, achieving the streamlined design of Semina - a consistently intelligent solution for both commercial and domestic projects.
3. Open Folding Arm Awnings - Open folding arm awnings are highly recommended for the weather protection of spacious areas. For a minimalist look, Livona is the ideal choice. The folding arm awning is integrated with a virtually invisible support tube to achieve a slim front profile.