Galvanised External Box Grates from Vincent Buda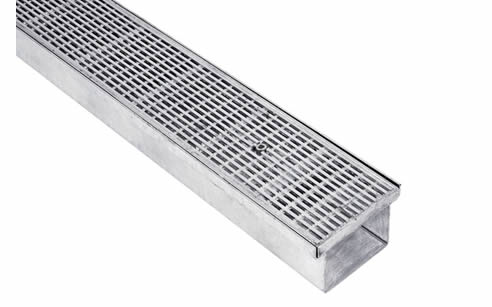 Choose from heelguard, maxi heelguard and traditional pattern box grates. Fully hot dip galvanised these box grates are typically used in driveways, along footpaths or anywhere requiring a drain. Stocked in standard lengths, they have the ability to be cut down and/or joined for as long as required. They are both a functional and very affordable drainage solution.
The heelguard pattern is a heelsafe option, with small bars to prevent leaves or rubbish from blocking your drain and therefore requiring less cleaning. Choose from 125mm wide, 150mm wide, 200mm wide and 300mm wide in the heelguard pattern.
Maxi heelguard is available in both 150mm wide and 200mm wide, with the bars being slightly larger, it provides slightly more water flow than heelguard while still preventing the drain from being blocked.
Traditional pattern is a very affordable option available in 125mm wide, 150mm wide, 200mm wide and 300mm wide.