House Wraps by ThermaKraft from Hazelwood & Hill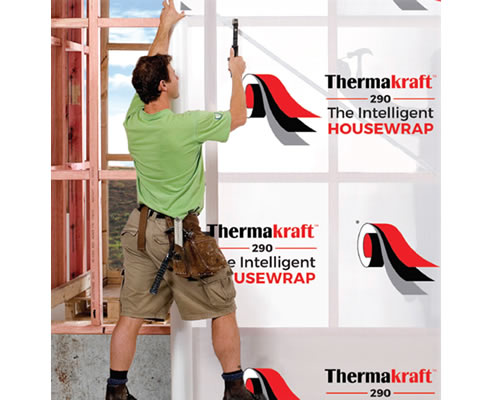 THERMAKRAFT - 290 - THE INTELLIGENT HOUSE WRAP AVAILABLE FROM HAZELWOOD & HILL
Hazelwood & Hill are pleased to be able to offer the Thermakraft specialised range of full height synthetic breather type wall wraps and window flashing tapes.
Thermakraft House wraps are conducive to the management of condensation in your wall systems. 290 will allow water vapour to permeate through the wall wrap (Low Vapour Barrier), but stop Liquid water from penetrating from the outside (High Water Barrier).
The Intelligent 290 HouseWrap is a wall wrap that ticks all the boxes in the one wrap.
High Water Barrier
Low Vapour Barrier
Absorbent
Fire Retardent