Key-Ply Perforated Plywood Panels from Keystone Linings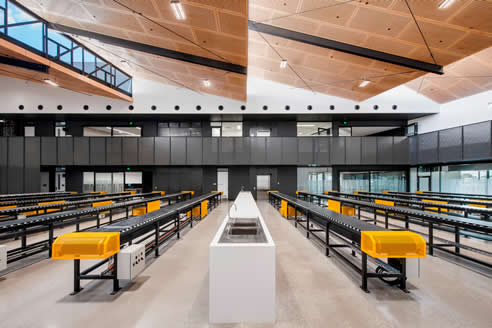 South Australia Drill Core Reference Library wins multiple design and architecture awards.
The South Australia Drill Core Reference Library showcases an important South Australian resource, housing a collection of drill core materials that outlines the geological footprint of the state.
The design, by local firm Thomson Rossi, was inspired by imagery of mining sites and geological formations, which led to the raw materials palette, with corten steel panels (solid and perforated) gradually giving way to articulated precast panels that are 'rhythmic and are evocative of geological formations'.
Keystone Key-Ply perforated plywood panels were supplied cut to size, ready for installation by Laser Linings. Key-Ply is available in a range of sizes, grades and finishes, including our new 3 metre jumbo birch sheets.
Awards: AIA National Colorbond Award for Steel Architecture 2016
AIA SA Commercial Architecture Award 2016
AIA SA Colorbond Award for Steel Architecture 2016
AIB SA Professional Excellence Award 2016 for Commercial Construction $10M to $50M.
Keystone have dedicated Architectural consultants and Project Managers for architects, interior designers and builders to help with any questions you may have including technical support, product specifications, design possibilities and costings making your budgets work better for you.
Contact us today: www.keystoneacoustics.com.au/contact/index