Ventilation and Energy Efficiency from Paarhammer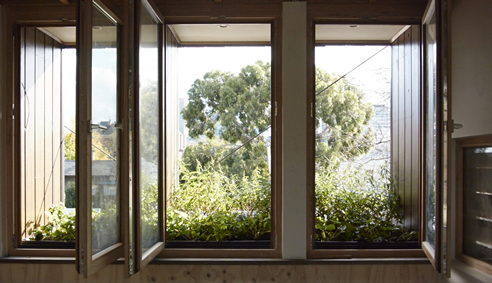 Correct ventilation and energy efficiency
Well sealed windows and high energy glazing save energy and provide a comfortable living environment - and that's how the danger of mould growth increases. This seeming contrast is easy to explain.
During the normal use of a living space large amounts of steam are released, e.g. through cooking, washing, showering or washing dishes. Also every human dispenses about 1/2 litre of water through the skin and even more than 1 litre through breathing into the air. On average we release about 10 litres of humidity into the air each day per person, including our activities.
But the air cannot take up unlimited amounts of moisture. With a relative humidity of 100% the air is saturated. Temperature also has an influence on the amount of steam the air can absorb. At 0 degrees it is about 5 grams per cubic meter of air, at 20 degrees it is 17 grams and at 30 degrees this figure rises to 30 grams.
In a heating climate when the warm air in the room meets colder areas, it cools down. The air in these areas cannot absorb as much moisture but releases parts of it in water. Easy to see when you wear glasses and walk into a warm room from the cold outside: the glasses steam up. In a cooling climate the opposite occurs.
Old windows did not seal well and were mostly draughty. This meant that warm air was constantly lost which is a huge waste of energy, but the vapour rich indoor air was continually and automatically exchanged with dry outdoor air. Modern window frames are very well sealed and have low air infiltration.