Rooftop Waterproofing with Cosmofin Membrane from Projex Group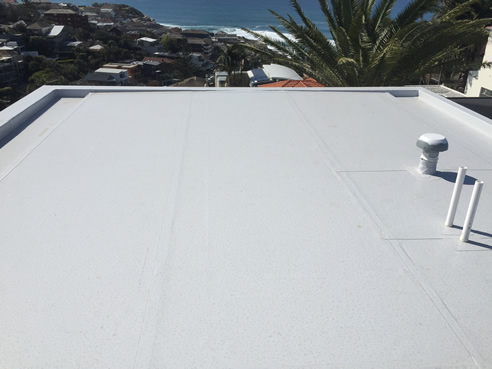 Replacement of failed liquid membrane
Once again, the Cosmofin waterproofing system has been specified & installed as the preferred waterproofing membrane to replace a failed liquid membrane on an exposed rooftop in Bronte. The Cosmofin membrane has been installed directly over the failed membrane system negating the need & costs associated to remove it.
Unfortunately, the poor initial choice of waterproofing products caused a lot of headaches to the building owner affecting the integrity of the structure and generating many costs in repairs.
Cosmofin LLV (Fleece Backed for adhering) PVC sheet membrane was the ideal solution for this application because the membrane is UV Stable & is not affected by the corrosive & aggressive salt air environment as well as exhibiting excellent elongation properties. The Cosmofin LLV has been bonded to the roof & terminated with it's own stainless steel ancillary components providing a total waterproof system. Cosmofin membranes have been used on many installations over the last two decades providing long term waterproofing & protection to a variety of different substrates.