Weinor Open Style Awnings from Undercover Blinds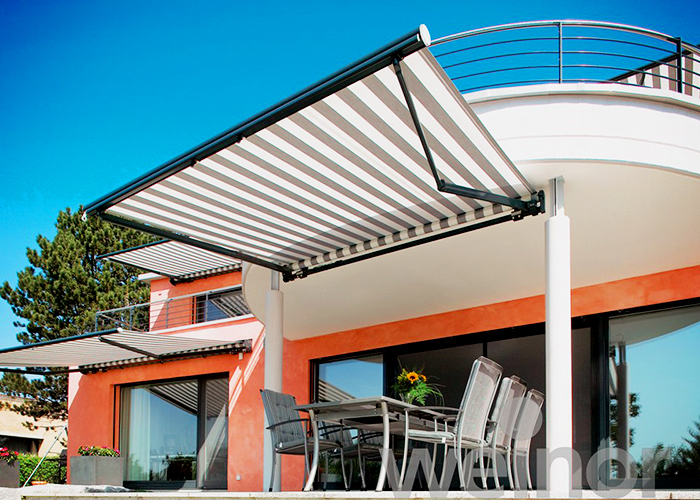 Weinor's range of open style folding arm awnings, cassette folding arm awnings are in a class of their own. Designed for easy use, from manual operation to one touch Somfy RTS (remote controlled) motorisation, Weinor has you covered. With over 150 fabric colours, styles, and 50+ frame colours to chose from, there is a full cassette waiting for you.
Livona/LED - Smart technology forms the backbone of the minimalist design of the open Livona awning.
Cassette Size: 12cm.
Maximum Width: 5.5m.
Maximum Projection: 3m.
The Weinor Livona open awning offers a very large shade area. Featuring a virtually invisible support tube and a particularly slim front profile. Livona's floating look is achieved up to a width of 6 meters with only two consoles. Livona is available with or without a roof and in many variants.
This puristic awning appears to float in the air, with little obstructing your view of all the fabric. LED lighting can also be added at your request in order to create various ambiences. When combined with the frame colour and fabric, the Livona is much more than an attractive balcony or patio awning: it is a modern style element for life alfresco. Available with LED light rings and the lateral spread light bar LED which presents a warm white LED light.

Topas - High on quality, low on budget - the Weinor Topas open style awning is the perfect model to get you started.
Maximum Width:
1 section awning, 2 arms: 650cm.
1 section awning, 3 arms: 700cm.
2 section awning, 4 arms: 1200cm.
Maximum Projection Angle:
400 cm for widths 601cm & above, 2 section awning, 4 arms.
The Topas awnings are available without a hood, making them especially suited for installation under balconies or protruding roofs, or with a ready-mounted aluminium hood for wall mounting in less well-shaded areas.
As it comes with several options, you'll always find a matching Topas no matter the type of structure. The Topas open awning is very wind resistant, and when one of the many frame colours is combined with one of the beautiful fabrics it creates a perfect atmosphere.
For more information regarding Weinor Open Style Awnings from Undercover Blinds, visit www.undercoverblinds.com.au.