Weinor Patio Roof Awnings from Undercover Blinds
Weinor offers the solution for perfect coverage of large areas and high wind situations.
Plaza Viva - Multi Function Innovation
This textile pergola awning is suitable for almost any weather condition and provides protection for your favourite outdoor space. The Plaza Viva can be used to direct rain off one side when the optional telescopic post is ordered with this retractable roof system.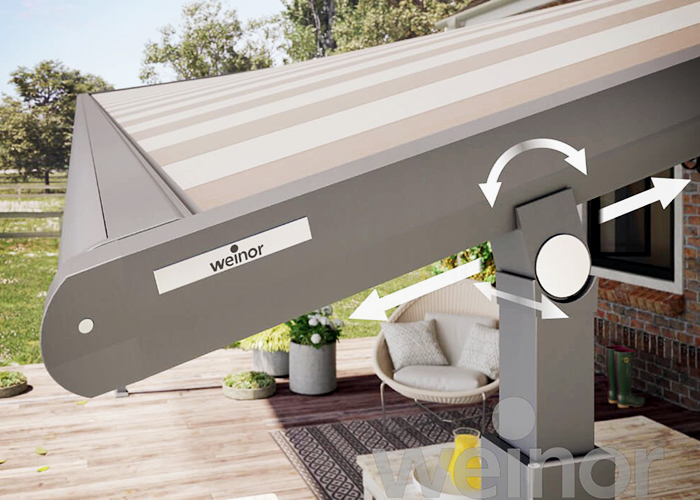 Max. Width x Projection: 6m x 5m.
Max. Fabric Area: 30m².
Options: Stretch, Stretch LED, Opti Stretch, Opti Stretch LED.
Valance Plus Option: Max. width of 6,000mm and max. projection (height) of 1,000mm, 1,500mm, 2,100mm.
Custom Colour Options: 47 standard frame colours, 9 trend colours, 150 RAL colours.
With the Plaza Viva textile pergola awning you can now use your patio for even longer with even less worries - virtually regardless of the weather. Whether it's as sun shading on a sunny day, as extremely stable weather protection with gusty winds, or as clever rain protection from warm summer rain, thanks to the Plaza Viva you can enjoy the haven of well-being on your patio without any interruptions.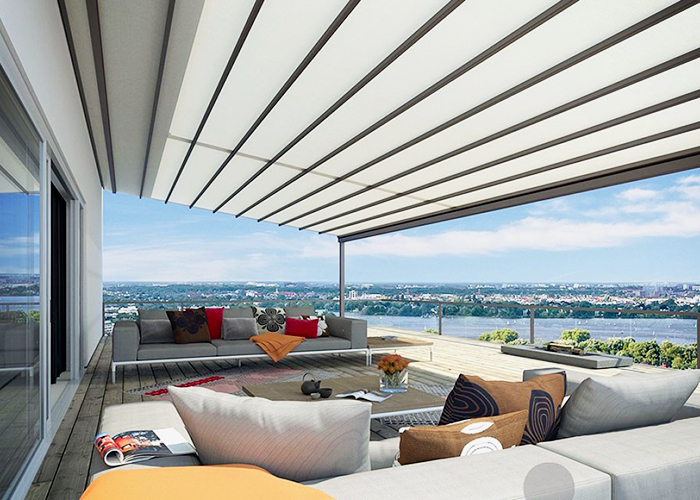 PergoTex II - Enjoy the Outdoor Life
Providing protection against the wind, rain, and UV-rays, while giving a great feeling of fresh air! Enjoy outdoor life, whatever the weather. The PergoTex II Cabrio-Folding System is rain-proof, wind stable, and completely retractable. With an integrated drainage system, controlled water flow-off from the aluminium fabric protection roof laterally over the transport profile in the large gutter in the front area.
Optional high-power LED-spots - for an amazingly beautiful atmosphere. By request, dimmable high-power LED-single spots can be integrated into the horizontal rails, celebrate by day or night.
Features
Cabrio system.
Protection against strong rain from 8° pitch.
Integrated high-power LED-spots.
Extendable with lateral all-glass elements.
Width x projection (max.): 7m x 6.5m.
PVC-coated pergola fabrics and 56 frame colours to choose from.
Enjoy the sun with a push of a button, the Somfy motor will work its charm - and the fabric will retract in. If the weather gets bad, just extend the Pergorex II again. You are protected from the rain in no time - without leaving your patio. Protection all year round.
For more information regarding Weinor Patio Roof Awnings from Undercover Blinds, visit www.undercoverblinds.com.au.