Open/Close Roof Systems for Designer Living from Vergola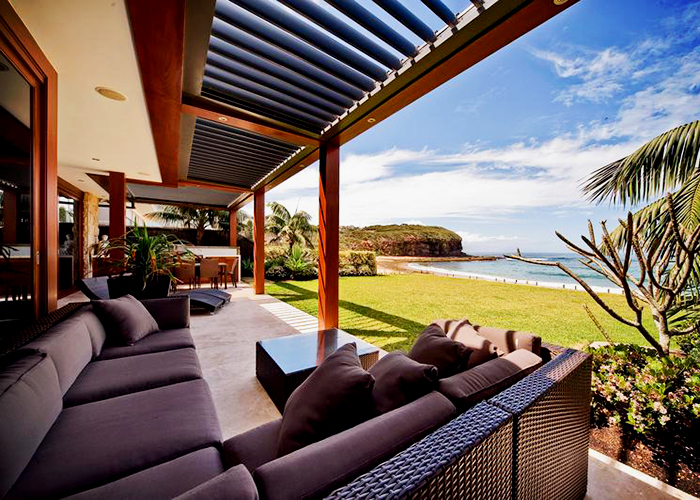 Why Architects Love Designing with Vergola
Vergola is the original, energy-efficient, open/close roof system that brings versatility and functionality to both residential and commercial properties, generating comfortable spaces that can be enjoyed year round. A covered pergola can mean the time spent in an outdoor living space is doubled, but how are the perfect coverings chosen and why do architects love working with them? The primary attraction to Vergola is the versatility of the Vergola plus the stylishness and ease of function, creating a different mood depending on the time of day and the season.
The Versatile Vergola
Whether the idea is for an entertaining area outdoors for a new home or an added outdoor space to an existing one, a louvred pergola could be just the thing for designing a versatile space that can be used despite the weather conditions. The user has total control over outdoor areas with a Vergola which has roofs that open and close with ease, letting the sun in or shutting out the sun, wind, cold, or rain.
A huge added benefit of a Vergola is the rain sensor which closes the louvres at the first hint of rain. Vergola gutters and flashings are manufactured using Colorbond steel, and the framework can be constructed from timber, steel, or any other material that complies with local building codes. Timber allows Vergola to complement existing pergolas or be integrated into more classically designed structures.
Benefits of Working with a Vergola
The Vergola opening and closing roofing system can be incorporated into a range of structures and configurations, either freestanding or part of an existing building. Integrating a Vergola into a new home or renovation can unlock the full potential and lifestyle benefits of any outdoor living space. A range of architectural facilities and fittings can be incorporated which ensures that the Vergola structure fits any contemporary architectural design, while still integrating into period styles.
Vergola can suit any roof style whether pitched, flat, inserted, or gabled into an existing frame and the choices are comprehensive - from single or multiple bays, to covering the smallest opening or a large area - a Vergola can be designed to suit. Unique gutters which are independent of existing guttering are fitted inside the frame's perimeter to allow any water to run off the louvres safely into existing or dedicated downpipes.
Attractive Features of the Vergola System
Louvred Vergolas allow the user to have complete control of the light by a simple flick of a switch the louvres can be closed tight, so family and guests don't get caught in a sudden downpour halfway through lunch. Whether the design is traditional or contemporary, a louvred pergola can work perfectly and they come in handy for the crossflow of air. They can be opened to allow cool air to flow through and closed when a warmer feel is needed or if the weather turns.
The following points highlight the versatility, unique design and added benefits that architects love when working with Vergolas:
Comfort: Vergola's unique aero-foil wing shape with an air gap and the double Colorbond steel offers maximum insulation to keep the architects' clients warmer in winter and cooler in summer. The wind and rain are blocked out, and the Vergola can be used for noise control and/or as a privacy screen. Compared to other roofs, a Vergola can reduce air temperature by up to 18C.
Value Adding: A stylish Vergola incorporated into an architectural design can provide an extra room outdoors for residential or commercial properties that need more functional space.
Superior Quality and Design: Vergola's design consultants work with architects to achieve the best design option for a home or commercial property, taking into account the property's existing design elements, where the sun hits the building, and any other considerations. Vergola's frame and beam cappings provide seamless attachments to dwellings.
Vergola is an all Australian owned company, and all Vergolas are manufactured in Australia at our Terrey Hills factory. Homeowners can call us for more information about the design and installation of our Vergolas or fill in the online form to email us.
Architects and contractors can access Vergola CAD Drawings (AutoCAD DXF, ArchiCAD & Revit models) and fixtures and finishings information by entering their email address in the blue box on our website. Also, our design consultant is available to help with any other information and support needed when integrating a Vergola into your building designs.