Fireproof Cladding for Bushfire Prone Areas from DECO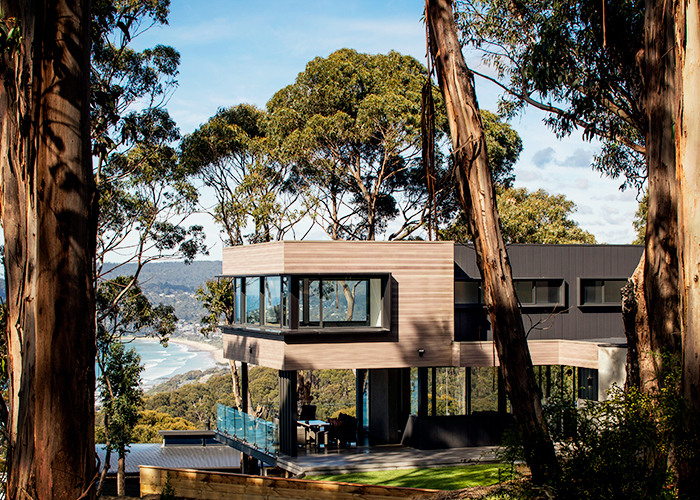 Fire Safe Building with DECO
In 2020, Australia saw bushfires that devastated multiple states, and the mission of rebuilding destroyed infrastructure and properties is now slowly beginning. It is more important than ever that professionals and consumers choose safe, compliant building products when building in a BAL FZ area.
The Australian Standard AS 3959: Construction of Buildings in Bushfire-Prone Areas outlines requirements for building in different bushfire-prone areas, to reduce the risk of combustion from stray embers or burning debris, and to reduce the damage from direct flame as much as possible. As BAL FZ is the area at the most risk from direct flame attack, it is crucial that non-combustible materials be used for any exposed parts of your home, including wall cladding and decking.
DecoWood®
DecoWood® provides a perfect alternative for common building materials in Flame Zone areas. As a sublimated, powder-coated finish for solid aluminium, DecoWood® products are compliant with AS 1530.1 and AS 1530.3 and are certified as a non-combustible material.
With DecoWood you can retain a beautiful, natural timber appearance without the flammability concerns. DecoWood does not ignite and does not contribute to the spread of flame.
DecoClad
DecoClad pairs the proven strength and durability of aluminium with a Super Durable powder coat finish. Made from 100% solid aluminium, DecoClad cladding boards are non-combustible and an ideal cladding product for fire-prone areas.
Designed for fast and easy installation, DecoClad's patented design complies with BAL FZ requirements as long as a fire protector/fire blanket such as TBA Firefly is installed behind it. DecoClad is available in six unique profiles with a choice of plain colour, woodgrain, concrete, and rust-look finishes.
DecoDeck
When you live in a Flame Zone, timber decking is not permitted, particularly if your deck is connected to your home. With DecoDeck aluminium decking, homeowners can enjoy the beauty of a timber deck with the peace of mind knowing that it is rated up to Flame Zone BAL FZ.
With its realistic timber-look finish, slip-resistant powder coating, and solid aluminium boards, DecoDeck is an ideal alternative to timber in bushfire-prone areas. To comply with the Bushfire Standards for BAL 40 or BAL FZ areas, DecoDeck customers will need to use the cover strips available by DECO to close the gap between planks – these are available in black or colour matched to your deck. A steal, brick or any non-combustible sub-structure will also be required.
DecoSlat
DecoSlat is a non-combustible Super Durable fencing system that is ideal for bush fire prone areas. As well as being fire safe, DecoSlat requires very little maintenance and will look new for many years. DecoSlat is a versatile product that has many uses including gates, screens, fences, or a decorative panel.
For more information on DECO's non-combustible building products or to request a sample, please call or visit www.deco.net.au.