Acoustica Industries has discovered the most effective way to convert sound energy into silent kinetic energy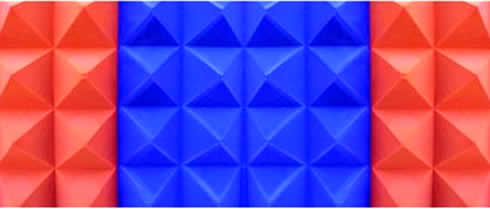 It uses a very ancient design: the pyramid. The company is now providing a range of pyramid shaped foams which absorb, scatter, deflect and diffuse sound energy, rather than only absorbing it.
After extensive research it was discovered that pyramids are particularly effective in mid-high frequency ranges. Acoustica, however, provides them in different thicknesses (50, 75 and 100 mm), in order to target a variety of frequencies.
The design is attractive, low maintenance and can be tailored or shaped to suit any room. The product is lightweight, economic and easy to install. Acoustica's Cheops Pyramids come in a multitude of colours to suit any studio, office or factory. This is good news for studio owners and musicians, as it means that sound reverberation control can be cheaply and effectively installed in any existing space, without needing a custom designed building for optimum acoustics.