Bridco stainless steel cleaner and polish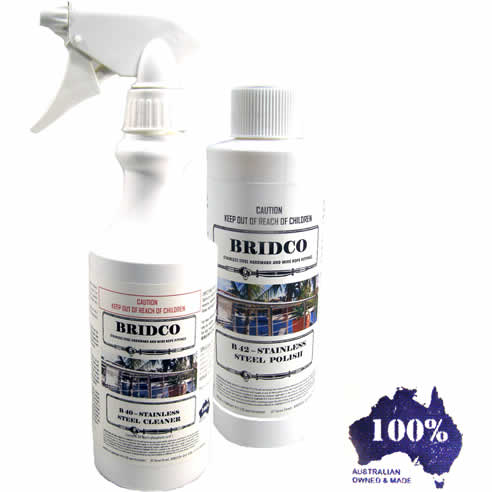 B40 Stainless Steel Cleaner by Bridco is a mixture of acids, selected solvents and surfactants specially designed to remove tea staining and grout from stainless steel stanchions, rails, stainless steel wire rope, etc.
B40 will not corrode stainless nor will it turn green or brown as hydrochloric based cleaners will.
For best results B40 should be followed by B42 Stainless Steel Polish. A hazardous goods surcharge of +50% is applied to all freight costs for B40. Standard box contains 6 x 500ml spray bottles (Hazardous Cargo).
B42 Stainless Steel Polish is especially designed to remove tea staining and fine scratches from stainless steel railings and fittings, etc. B42 deposits a protective, low surface energy water resistant layer, which repels water and air borne contaminants for several months, before re-application may be required. Standard box contains 15 x 250 ml bottles.
We recommend reading the 'Bridco Stainless Steel User Guide', for maintenance instructions.