Transportable Water Tanks from CUBIS Water Products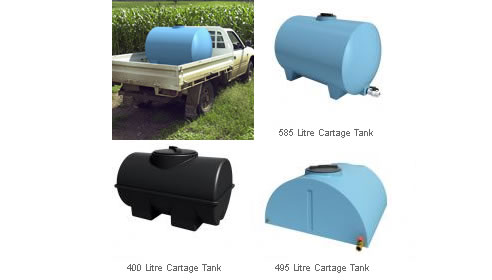 Water Cartage Tanks
These strong, easy to fill, easy to empty, easy to clean and easy to transport water cartage tanks range in size from 495 litres to 810 litres making it easy for your to haul water where your stock needs it most.
810 Litre Cartage Tank
CUBIS Water Products cartage tanks are manufactured in one piece for strength and are produced in Translucent Blue and Red so the liquid level can be seen. The 810 Litre cartage tank has four brass ferrules, these are moulded into the feet of the tank for ease of mounting to a ute tray. All CUBIS Water Products are manufactured using the finest grade polyethylene formulated to withstand Australia's harsh sun. These polymers have been specifically chosen for their long term stability and comply with Australian Standards AS2070 (food grade) and AS4020 (drinking water).
Translucent blue/red polyethylene showing liquid level
50mm PVC Ball Valve
Large screw top lid for easy filling and cleaning
Brass ferrules moulded into feet allowing the tanks to be bolted directly onto tray or trailer
Built with quality hexene copolymer resin
UV Resistant
10 Year Warranty