Steel Framed Buildings and Dubbo Floods from NASH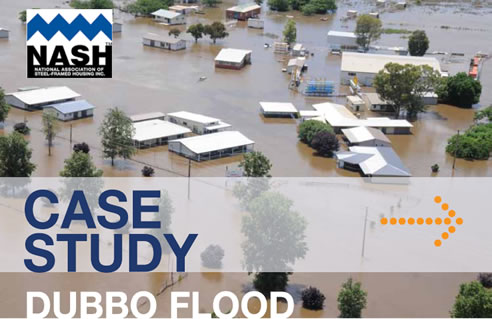 Case Study - Dubbo Flood
Harnett Transportable Homes in Dubbo NSW was flooded in early December 2010 when the Macquarie River burst its banks and inundated large areas in and around Dubbo. The business fronts the Newell Highway and occupies 35 acres of flat land providing them with the space they need to construct and store their transportable buildings.
The transportable buildings were immersed in flood waters for 5 days from 500mm to 1 metre deep above flood level. The continuous floor beams/bearers prevented the buildings from moving or falling off piers/stands from the force of the flood waters.
After the flood waters had receded:
- The mud and pooled water was rinsed from the buildings to prevent the mud from drying and the bottom plasterboard sheets, insulation and timber products including, skirting, doors, kitchens etc. were removed within 2 to 3 days.
- Steel framework was pressure washed once the plasterboard was removed and required little or no drying time.
- The floor sheets/boards were high quality dense material and were unaffected other than minor shrinkage in random areas where floor coverings were not installed. This was surprising as cheaper particleboard sheets have shown surface decay after 50mm of rain.
- Wet floors and walls consisted of fibre cement sheet and were unaffected and pressure washed clean without any noticeable grout staining.
- The flood 'smell' dissipated quickly in the steel framed buildings.
- No deterioration or discolouration was evident in the steel framing components ie. floor girder bearers, joists, wall frames.
- Four buildings have been delivered and there have been no reports of unusual changes/damage or loss of strength to the flood immersed buildings whilst being transported and reassembled on site.
- Stored flat pack steel products in the yard that were immersed were totally reusable but substantial damage occurred to immersed timber products.
- The repaired and relocated display buildings show no signs of smell or flood damage and are being used as temporary offices until the new buildings are finished.
The steel framed buildings survived the inundation and could be easily repaired whereas the office and display timber buildings have been dismantled and written off because of their age and the cost to repair flood damage. The smell remained for a long period in the soaked timber studwork buildings. Timber floor and wall frames continued to dry out and shrink in joints and fixing points long after the steel framed buildings were rebuilt.
Paul Taylor of Harnett Homes notified his customers of his repair actions and guarantees and all were happy to take the affected buildings.
With no previous experience of fllod warning systems the knowledge gained from this flood has been used by Paul to establish procedures for protecting against a reoccurance. The buildings will be lifted above known water levels as soon as the river reaches a rising danger level of 10 metres. This level gives him 36 hours to elevate his work in progress.
Paul has since built earthen pads and reinstalled his existing steel framed display buildings above flood height. Along with landscaping this elevation has also made his displays much more noticeable to highway traffic. His new steel framed office and display building are also on a raised pad and under construction demonstrating his commitment to the Transportable Buildings industry and to his ongoing expansion plans.
In summary, steel frames have performed wall in the floods and proved quick and easy to repair.