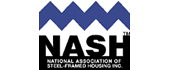 Company Profile
NASH was formed in 1982, initially to represent the interests of the fabricators of steel framing systems for housing. Since then, our scope has expanded to include all forms of low-rise steel framed construction. Today our members include specialist steel frame builders as well as suppliers of products and services to the industry.

Whatever your interest in steel-framed construction - as a homeowner, trade contractor, builder, designer or developer - we trust you will find answers to your questions here, or clues to where else to look.

We welcome your feedback and enquiries on anything related to residential and low-rise steel framed construction.
NASH
03 9809 1333
Hartwell, Vic, 3124
* If you would like to update the text on your profile page, please contact Spec-Net.